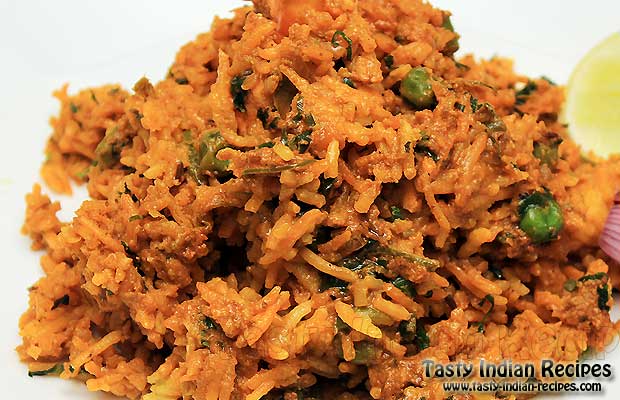 Tawa Pulao is an immensely tasty pulao recipe made with the rice, veggies and rich Indian spices. This is one of the most famous street food recipe and known as Mumbai' s Special Tawa Pulao. This is the best delight or treat for the lovable Mumbaikar's. Learn to make easy and tasty Tawa Pulao and do the best use of leftover cooked rice of your fridge. Although the name is tawa pulao, but it doesn't mean that you have to make it on tawa. The preparation and steps are so easy that it can be made in the pan with the irresistible taste.
Preparation time: 15 minutes
Cooking time: 25-30 minutes
Servings: 4
Ingredients:
2 cups basmati rice
1 big onion finely chopped
1 tomato finely chopped
2 tbsp carrot chopped
1 capsicum chopped
1/2 cup fresh or frozen green peas
2 tbsp french beans
4 green chillies chopped
1 inch ginger chopped
4 cloves garlic minced
1 bay leaf
2-3 black peppercorns
2 cloves
1/2 tsp red chilli powder
1/2 tsp turmeric powder
1/2 tsp cumin seeds
1/2 tsp fennel seeds
1-1/2 tsp pav bhaji masala
Fresh cilantro chopped
1 tbsp fresh butter
2 tsp vegetable oil
1 tsp lemon juice
Salt to taste
How to make Tawa Pulao:
Wash and clean the rice in normal running water.
Boil and drain aside.
Melt the butter in a pan and keep aside.
Heat the oil in a pan, add cumin and fennel seeds along with bay leaf, peppercorns and cloves.
Saute for few seconds until aromatic.
Add green chillies, ginger and garlic.
Saute for few more seconds.
Add chopped onion and stir until onion translucent.
Add tomato and all the chopped veggies.
Add salt, red chilli powder and turmeric powder.
Mix well and simmer the flame.
Add 1 cup of water, mix well and cover the pan.
Leave to cook until veggies are tender.
Add pav bhaji masala and stir for 2 minutes.
Now mix the rice very well in the veggies.
Pour lemon juice and spread the melted butter all over.
Toss and cook only for 2 more minutes.
Garnish with cilantro and serve hot with bundi raita or cucumber raita and roasted papad.
Chef Tips:
You can melt the butter in the microwave.
Tawa pulao with dal fry is the good combination of the meal.
You can add garam masala powder for bringing some more flavors in the pulao.
Tawa pulao can be served as a snack dish or the main course dish.
You can do the best use of plain or steamed rice by making this yummy tawa pulao.