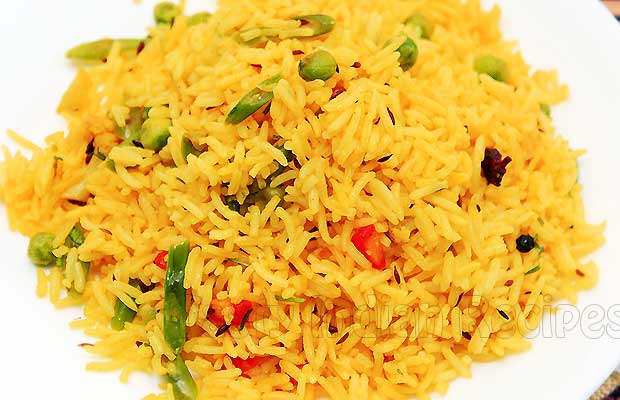 Mushroom Paneer Pulao is the high protein blend of mouth melting ingredients like paneer, mushroom, whole spices and many more. This is the most delicious main course dish in form of pulao, presented by using rich and flavorful basmati rice.
Preparation time: 10 minutes
Cooking time: 30 minutes
Servings: 4
Ingredients:
1 cup button mushroom
2 tbsp green peas / mattar
4-6 french beans, chopped
1/2 carrot, (peeled and chopped)
1-1/2 cup basmati rice
200 gms paneer (cut in cubes)
2 tbsp ginger-garlic paste
2 green chillies thinly chopped
1/2 tsp cumin seeds
3-4 curry leaves
2 small onions thinly chopped
3-4 tomatoes chopped
1/2 tsp red chilli powder
1/4 tsp turmeric powder
1 tbsp coriander powder
1/2 tsp garam masala powder
3 tbsp cashew nuts paste
1 tbsp almonds paste
Fresh coriander chopped
Few mint leaves chopped
Salt to taste
Vegetable/sunflower oil
Whole garam masala:
1 bay leaf
1 dried Kashmiri red chilli
2 cloves
3-4 black pepper corns
1 inch cinnamon
2 cardamoms
How to make Mushroom Paneer Pulao:
Heat sufficient oil in a pan and deep fry the cubes of paneer slightly golden. Keep aside.
Slice the button mushroom and keep aside.
Wash basmati rice 2-3 times thoroughly and soak in the water for about half an hour.
Add little amount of salt in rice and keep on boil until 3/4th done.
Heat a non-stick pan and add 2 tbsp of oil.
Add whole garam masala, cumin seeds and curry leaves.
Saute for few seconds and add green chillies along with ginger-garlic paste.
Saute for a minute. Now add chopped onion.
Stir for few seconds on medium high heat until onion translucent.
Now add chopped tomatoes, vegetables, salt and spices.
Mix well and cover the pan.
Simmer the flame, leave the gravy to get ready in 3-4 minutes.
When the oil starts touching the sides of the pan, then you may add mushrooms.
Also add cashew nuts and almonds paste.
Add half cup of water and leave the mushrooms to tender.
When the gravy seems thick then add fried paneer.
Mix very gently and add boiled rice.
Toss and drizzle some drops of water over all on top of the rice.
Cover the pan, simmer the flame and leave the pulao to get cooked.
After 4-5 minutes, the pulao will get ready.
Finally garnish with chopped coriander and mint leaves.
Serve hot with roasted papad and yogurt.
Chef Tips:
You can use pre-boiled mushrooms.
Another way to make this delicious pulao is, take an oven proof bowl, make the layers of gravy, boiled rice and garnishing ingredients, add some water, cover with a tight lid and heat in the oven for 4-5 minutes just before serving.
You may garnish this pulao with your favorite dry fruits or blanched nuts.
This is one of the best pulao goes with any dal or curry dish.