Fruit Custard Recipe is the famous Indian Dessert made with lots of Fresh, Healthy and Seasonal Fruits. It is an awesome desert that is generally liked by Kids and Adults. Kids like to have fruits in different forms, because they generally run away from eating raw fruits, hence moms can make variety of fruit dishes for kids and one of them is this simple and easy fruit custard recipe.
If your kids likes to have some more flavors in it, then you can add fruit jelly and tuty fruity in it. My mom used to make this a lot for me. I remember my mom used to make this custard from Crown brand and the jelly would be Rex brand, and I really would enjoying eating fruit custard more than raw fruits.
Fruits are always healthy and you must include them in your regular diet. Fresh and Seasonal fruits are available throughout the year in India and you can enjoy all the fruits.
Variety of Fruit dishes can be made at home, such as Mixed Fruit Juice, Fruit Custard Pudding, Sweet Fruit Chutney, Fruit Cocktail Pudding and many more. I always keep fruits in my home and try to put them in my Raita, Dessert and Pudding Recipes. This fruit custard is easily made with Apples, Oranges, Kiwi and Dry fruits. You can serve it chilled or immediately after just making. It is always yummy and full of nutritious.
You can use any milk for making this fruit custard at home, the technique and method of making the custard remains the same. I added little jaggery in it to improvise on the sugar content. If you are using cow's milk, then do use organic cow's milk. It is always pure, thick and tasty.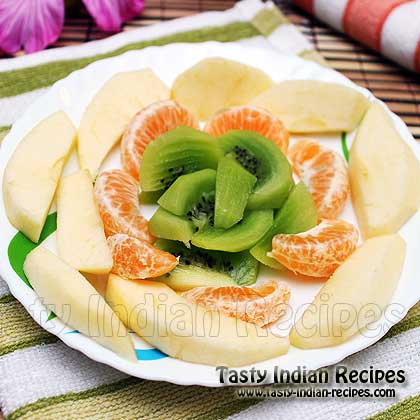 How to make Fruit Custard Recipe:
Fruit Custard Recipe is Kid's most Favorite Desert made with lot of Healthy and Fresh Fruits and Custard Powder. Some Raisins are also added for more flavors.
Ingredients
4 cups almond milk or regular milk
2 cups mixed seasonal fruits (apples, oranges, kiwi), chopped or sliced
1 tablespoon raisins
1 tsp jaggery (gud)
1 tablespoon powdered sugar
3 tablespoon egg less vanilla custard powder
1-1/2 teaspoon fresh cream
Chaat masala to taste
Instructions
Heat 4 cups milk in a big vessel on a low flame. Now take out 4 tablespoon of warm milk and add into custard powder.
Make a smooth and lump free paste out of it and mix in the heating milk.
Now add sugar in milk and stir till the sugar dissolves. Keep the flame very low and stir continue till the milk begins to thicken. It is very important to stir continuously as to avoid forming lumps in the custard. It will take about 10- 12 minutes.
Turn off the flame and keep the custard aside to cool down. Add raisins and mix very well.
Divide the fruit custard in 3 individual bowls and garnish with 1/2 teaspoon of fresh cream and sprinkle some chaat masala just before serving.
You can serve it either immediately or keep it in refrigerator for few hours to serve chilled.
Notes
You can add your favorite fruits for making this fruit custard at home. Fresh cream is an optional ingredient here. You can add some blanched cashew nuts and almonds too.
Tasty Indian Recipes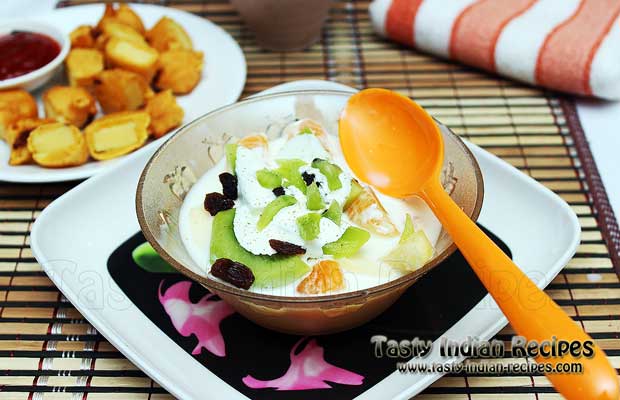 Chef Tips:
If you mix the fruits with custard much ahead there are chances that it might get watery, hence try to add fruits just before serving.
Vanilla custard paste can be prepared well in advance, you can even keep it in refrigerator for two days.
The quantity of sugar I mentioned is just right enough for enough sweetness as even the fruits lend their own sweetness when we bite. If you want it more sweeter, then you can add some more sugar in it.
 You can add fruits like sapota (chikoo), strawberries in season, tinned pine apple pieces to fruit custard. Try to avoid fruits like pear, watermelon, muskmelon as they change the taste of fruit custard.