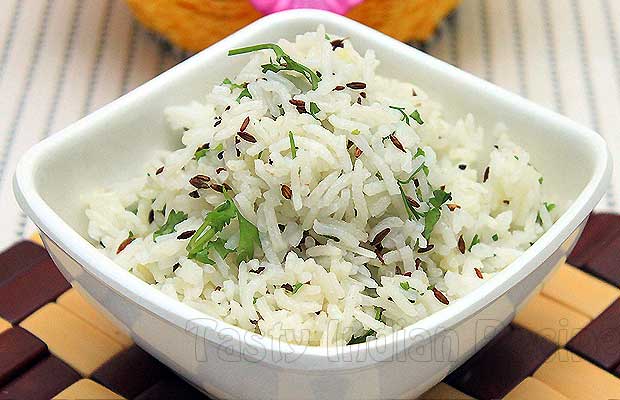 Jeera rice is a simple and very tasty variation of boiled rice, flavored with cumin. It is one of the most famous rice recipe of Punjabi Cuisine. Jeera rice is an excellent accompaniment with almost every gravy dish. It is a quick, tasty and healthy rice recipe.
Preparation time: 5 minutes
Cooking time: 15 minutes
Servings: 2-3
Ingredients:
1 cup Basmati rice (a long grain Indian rice)
1 tsp cumin seeds
4-5 curry leaves
1/2 tsp oil
Fresh coriander leaves, chopped (for garnishing)
How to make Jeera Rice:
Wash the basmati rice properly in running water.

Boil the rice in 2 cups of water and add salt to taste.
While boiling check the softness of few grains of rice from the inside.
Once the rice are properly cooked, remove from the heat and drain whole water by straining the rice. Set aside.
In a heating pan add oil.
As the oil heats add cumin seeds and curry leaves.
Stir well and allow to crackle.
Add boiled rice and adjust the salt.
Garnish with some finely chopped fresh coriander leaves, mix well and serve hot.
Chef Tips:
You can roast the cumin seeds before mixing with the rice, roasted cumins will enhance more flavor.
You can garnish jeera rice with fresh coriander leaves.
These jeera rice are so delicious that you can serve them with any type of Indian dal recipe such as:
Yellow moong dal
Chana dal
Black dal
Teen dal
Toor dal
Toori chana dal
Maakhni dal and many more.