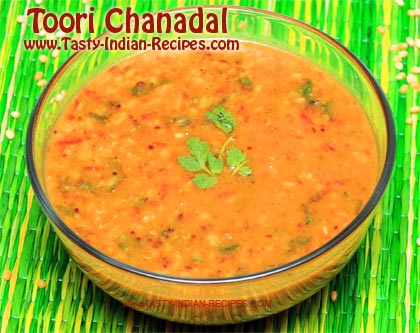 Toori Chanadal is a delicious combination of flavorful smooth gourd or turai and chanadal along with aroma of tomato gravy and spices. It is a healthy and tasty bottle gourd recipe. Turai Chana Dal is a nice option for the vegetarians. A smooth gourd cooked with Bengal gram really makes a mouth watering Dal recipe, and perfect to serve with roti and jeera rice.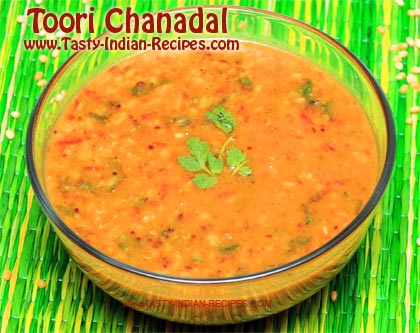 Preparation time: 5 minutes
Cooking time: 20 minutes
Servings: 2
Ingredients:
1 medium size gourd (Toori) peeled and chopped
1 bowl of soaked chana dal (soaked in water at least for 15 minutes)
1 medium size onion coarsely chopped
4 tomatoes chopped or sliced
2 tsp ginger-garlic paste
4 green chillies thinly chopped
1/2 tsp cumin seeds
1/2 tsp mustard seeds
4-5 curry leaves (broken in half)
1/2 tsp red chilli powder
1/2 tsp turmeric powder
1 1/2 tsp coriander powder
1/2 tsp garam masala powder
1 1/2 tsp vegetable oil
Few drops of fresh lemon juice
Fresh cilantro chopped
Salt to taste
How to make Turai Chana Dal:
Heat up a pressure cooker and add 1 tsp of oil.
In the heating oil add green chillies and ginger-garlic paste.
Saute well on medium low heat.
Add chopped onion and cook until brown in color.
Add chopped tomatoes and toori.
Add salt, red chilli powder, turmeric powder and cook for 4 minutes.
Add soaked chanadal, coriander powder and 1 cup of water.
Cover the pressure cooker and wait for 4-5 whistles.
Uncover and check the consistency.
Toori chanadal is medium dry recipe, so adjust water accordingly and simmer the gas.
In a saucepan heat 1/2 tsp of oil.
Add cumin seeds, mustard seeds and curry leaves.
Leave to crackle and pour directly into toori chanadal.
Add garam masala powder and 2-3 drops of lemon juice.
Mix well and cook for one more minute.
Garnish with chopped cilantro and serve hot with roti or jeera rice.
Chef Tips:
You can make this recipe in a pan as well, for that you need to boil the chanadal well in advance, but the procedure of cooking in pan is time consuming.
Lemon juice is an optional ingredient.
Pick up smooth gourd while purchasing, as it create a softness in this recipe.
Add water as per the medium thick consistency because fresh toori is always juicy and contents water in it.