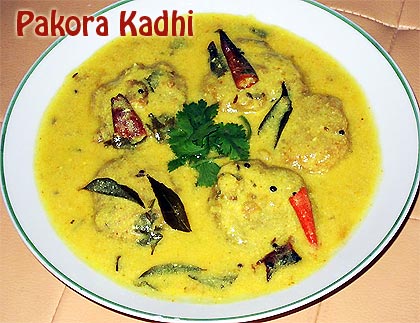 Pakora Kadhi is simply amazing fritters of gram flour cooked in the unique style curry recipe. This dish is stolen from the treasure of Sindhi Cuisine and this is one of the most flavored and easy main course dish made with besan bhajiye or pakore.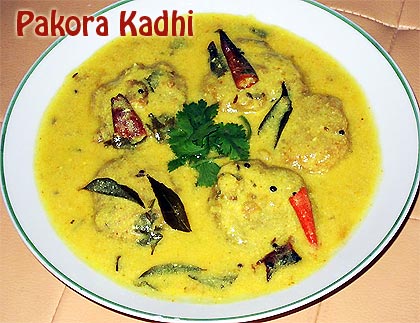 Preparation time: 10 minutes
Cooking time: 20 minutes
Servings: 4
Ingredients:
1 cup gram flour (for making padode)
1 tbsp gram flour (for curry)
2 cups fresh yogurt
1 onion thinly chopped
4 green chillies chopped
1/2 tsp mustard seeds
4-5 curry leaves
A pinch of baking soda
1 tsp red chilli powder
1/2 tsp turmeric powder
1/4 tsp dry mango powder
1-1/2 tsp coriander powder
Vegetable oil
Few coriander leaves chopped
How to make Pakora Kadhi:
Heat sufficient oil in a pan.
Till oil heats, you may do the preparation of making pakode.
Combine besan, salt, green chillies and baking soda.
Mix well and make a medium thick batter, which requires for making pakode.
Spoonful of the batter one by one in hot oil.
Fry until turn into nice and crispy golden brown in color.
Drain on oil absorbent paper and leave to cool.
Heat 1-1/2 tsp oil in a pan and add mustard seeds and curry leaves.
Saute for few seconds until seeds crackle.
Stir with the yogurt and 1 tbsp of gram flour for few seconds until blends well.
Add 1 glass of water, salt, red chilli powder, turmeric powder and coriander powder.
Mix well and bring this mixture to few boils.
Now add fried pakode and stir with the dry mango powder.
Cook for 2 more minutes on low flame until pakode coats very well into the curry.
Garnish with fresh coriander leaves and serve hot.
Chef Tips:
Pakora curry must be served immediately, else it becomes soggy and mushy.
At the time of frying pakore, put 4-5 pakore at a time in hot oil, so that they will be crispy and nice in color.
The another way is you can make the curry until boiled, then at the time of serving place 3-4 pakore in serving bowl and then top with the curry.