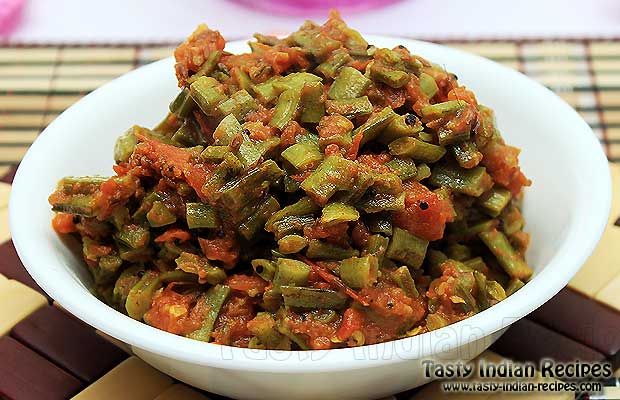 Sindhi Food is always admirable, as it is full of flavors and fragrant. The spices and masala's are carefully used for making Sindhi delights and cuisine. Hence I decided to make this Gawar Ki Sabzi Recipe in Sindhi Style with the perfection of spices, that I have learned from one of my Sindhi Friend.
Guar/gawar or cluster beans are easily available in market. Sindhi's use this vegetable for making variety of dishes and one of the most famous dish is Sindhi Kadhi, which is just impossible to make without using this gawar. Gawar / Guaar or Gawar ki Fali is one and same thing, and this particular vegetable is the healthiest option, even for the diabetics.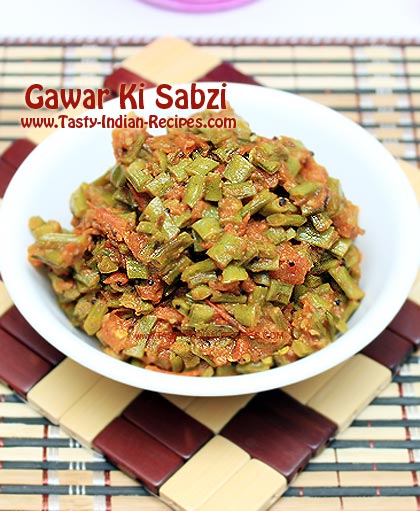 How to make Gawar Ki Sabzi Recipe :
Gawar Ki Sabzi Recipe is cooked with Cluster Beans, Tomatoes, Herbs and flavorful Indian Spices. Its a Sindhi Recipe and can be cooked very fast in pressure cooker.
Ingredients
250g Gawar /cluster beans
8 pods of garlic
2 inch ginger piece
4 green chillies or as per your taste
4 medium tomatoes, fine chopped
1/2 teaspoon cumin seeds
1/2 teaspoon mustard seeds
1/2 teaspoon red chilli powder
1/2 teaspoon turmeric powser
3/4 teaspoon coriander powder
1/2 teaspoon garam masala powder
2 tablespoon cooking oil
Salt to taste
Instructions
Chop the gawar in tiny pieces. Keep the chopped gawar in water for 10 minutes. (If gawar is not very fresh, then please boil it for few minutes just before cooking, else you will feel the raw and sour flavor at the time of eating). Drain and keep aside.
Put the ginger, garlic and green chillies in a chopper and finely chop them. Chop the tomatoes with your hands. Do not use chopper for chopping the tomatoes, chop with your hands, so that you will get the real taste of Sindhi style gawar bhaji.
Heat the oil in a pressure cooker. Add cumin and mustard seeds and allow them to pop up. Add finely chopped ginger, garlic and green chillies. Saute for a few seconds and then add chopped tomatoes.
Cook the tomatoes with salt and other spices. Mix well and cover the pressure cooker with any normal lid. Let it cook on simmer for a few minutes, till the tomatoes are little cooked, but not mushy. Add rinsed gawar and mix well. After 2 minutes, add 1-1/2 cup of water.
Cover the pressure cooker with a tight lid and leave to cook, till 4-5 whistles. It will take about 7-8 minutes.
Uncover and dry the cooked gawar on a low flame, if it looks watery.
Make sure, the water of gawar should be completely evaporated.
Serve with chapati.
Notes
You can add chopped onion in Gawar ki sabzi. Add chopped potatoes and cook with gawar, your kids will like to eat it.
Tasty Indian Recipes
Chef Tips:
Gawar Ki Sabzi is best to serve with Indian chapati.
You can carry this recipe for picnics and long journeys as well, because it tastes great even when it is not hot enough.
Once I had this sabji with bread slices, it was awesome.
If you want, you can add little bit of dry mango powder to bring a tangy flavor in gawar.