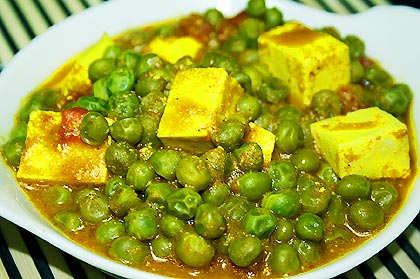 Microwave Matar Paneer is a quick and tasty delight made in the flavorful combination of Indian cottage cheese (paneer) and fresh green peas (matar).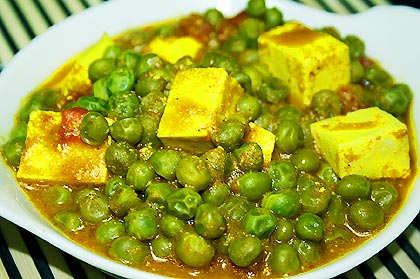 Preparation time: 5 minutes
Cooking time: 15 minutes
Servings: 4
Ingredients:
200 gm Indian cottage cheese (paneer)
1 cup green peas (frozen/fresh)
1 small onion
3-4 green chillies
4-5 cloves garlic pieces
1 inch ginger piece
1/2 tsp cumin seeds
1/2 tsp white sesame seeds
1 cup tomato puree
1/4 tsp red chilli powder
1/4 tsp turmeric powder
3/4 tsp coriander powder
1/2 tsp garam masala powder
Salt to taste
1 tsp cashew nuts chopped
1 tsp almonds chopped
1 tbsp fresh cream
1 tbsp fresh coriander thinly chopped
2-1/2 tsp oil
How to make Microwave Paneer Matar:
Cut the paneer in cubes and keep aside.
Combine the onion, green chillies, ginger, garlic, cumin seeds and white sesame seeds.
Grind for few minutes to make a smooth paste.
Fry the prepared paste in a non-stick pan only for 2 minutes.
Add tomato puree and green peas along with 1-1/2 cups of water.
Transfer the mixture into the microwave proof dish and microwave on high for about 5 minutes.
Mix salt and spices and again microwave for 1 minute to blend the spices very well in the prepared gravy.
Add paneer pieces and mix very gently.
Cover the microwave dish and keep again on high for last 2-1/2 minutes.
Garnish with chopped nuts, fresh cream and chopped coriander.
Serve hot with jeera rice, roti or naan.