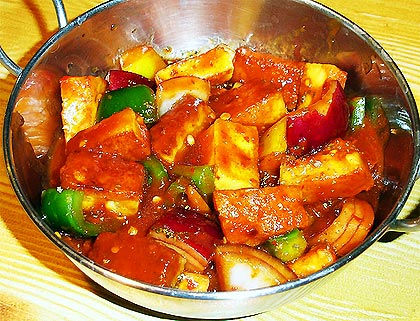 Microwave Paneer is a simple yet very tasty paneer (Indian cottage cheese) recipe made with the wholesome flavors of capsicum and tomatoes.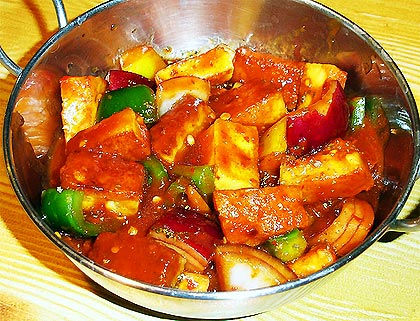 Preparation time: 5 minutes
Cooking time: 8 minutes
Servings: 2
Ingredients:
2 cups fresh Indian cottage cheese (paneer)
1 capsicum, diced
1 tbsp thick yogurt (curd)
1 inch ginger julienned
2 tomatoes, cubed
1/4 tsp honey
2-3 green chillies thinly chopped
1/2 tsp red chilli powder
1/4 tsp turmeric powder
1 tsp coriander powder
3/4 tsp garam masala powder
1/4 tsp chaat masala powder
Salt to taste
1 tsp oil/ghee
How to make Microwave Paneer:
Cut the paneer in small cubes and microwave for about 2 minutes on high.
Add oil, ginger, tomatoes, capsicum salt and honey.
Microwave for 4 more minutes.
Finally add spices and green chillies.
Microwave for 2 more minutes and serve hot with roti or naan.