Yellow Moong Dal Recipe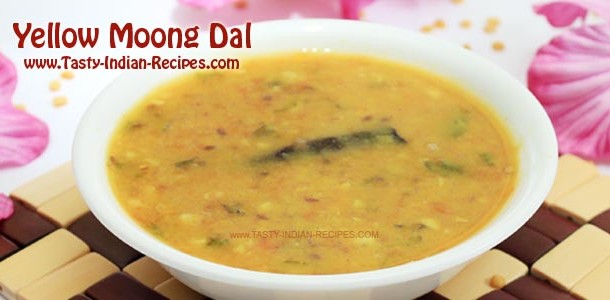 Yellow Moong Dal is simply a yellow split lentils, cooked in a very simple way and with very limited spices. It is a staple food in India and main source of protein. I have not used any onion or tomato in this dal. It is just a quick way to make tasty and healthy moong dal in flavorful spices. Plain dal is a curry recipe which is perfect to serve with jeera rice. You can use toor dal, chana dal or any type of lentils for making this delicious dal recipe.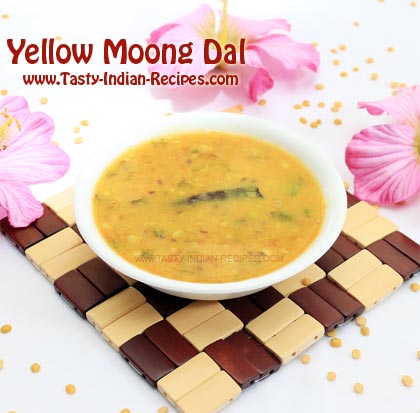 Preparation time: 5 minutes
Cooking time: 15 minutes
Servings: 2
Ingredients required for making Yellow Moong Dal Recipe:
1 cup moong dal (yellow dal)
1/2 tsp turmeric powder
1/2 tsp red chilli powder
1 tsp vegetable oil
6-7 cloves garlic minced
1 inch ginger minced
5 green chillies finely chopped
1/4 tsp cumin seeds (jeera)
1/4 tsp mustard seeds
2-3 curry leaves
A pinch of chaat masala
A pinch of black pepper
Fresh cilantro chopped
Salt to taste
How to make Yellow Moong Dal Recipe:
Heat up a pressure cooker, add dal, 2 cups of water, salt, red chilli powder and turmeric powder.
Cover the pressure cooker and wait for 4-5 whistles or until dal is properly cooked.
Uncover the pressure cooker, adjust the water and salt as much you want and simmer the gas.
In a sauce pan add oil.
When the oil heats add curry leaves, cumin seeds and mustard seeds. Allow them to crackle.
Stir continue and add minced ginger-garlic and chopped green chillies.
Fry for one minute and directly pour into the dal.
Wait for 2-3 boils and add chopped cilantro.
Serve dal in individual bowls and sprinkle some chaat masala and black pepper.
Serve delicious hot moong dal with plain jeera rice.
Chef Tips:
You can observe that i have used very limited flavors. Customize according to your taste and ingredients. This dal tastes great in any ways.
You can use butter or ghee instead of oil.