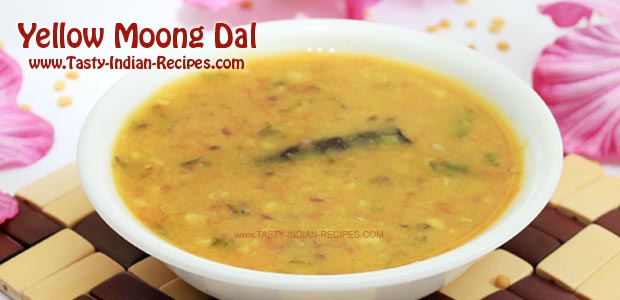 Yellow Moong Dal is simply a yellow split lentils, cooked in a very simple way and with very limited spices. It is a staple food in India and main source of protein. I have not used any onion or tomato in this dal. It is just a quick way to make tasty and healthy moong dal in flavorful spices. Plain dal is a curry recipe which is perfect to serve with jeera rice. You can use toor dal, chana dal or any type of lentils for making this delicious dal recipe.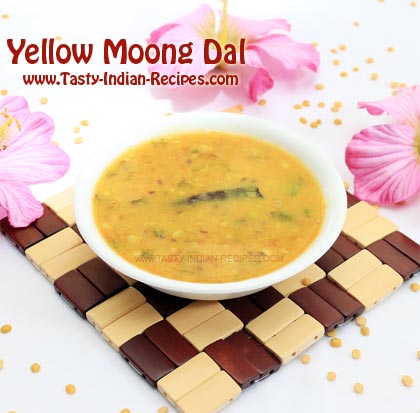 Preparation time: 5 minutes
Cooking time: 15 minutes
Servings: 2
Ingredients required for making Yellow Moong Dal Recipe:
1 cup moong dal (yellow dal)
2 tomatoes, chopped
1/2 tsp turmeric powder
1/2 tsp red chilli powder
1 tsp oil
6-7 cloves garlic, fine chopped
1 inch ginger, fine chopped
5 green chillies finely chopped
1/4 tsp cumin seeds (jeera)
1/4 tsp mustard seeds
2-3 curry leaves
A pinch of chaat masala
A pinch of black pepper
Fresh cilantro chopped
Salt to taste
How to make Yellow Moong Dal Recipe:
Heat up a pressure cooker, add dal, 2 cups of water, salt, red chilli powder and turmeric powder.
Cover the pressure cooker and wait for 4-5 whistles or until dal is properly cooked.
Uncover the pressure cooker and add some water to maintain the desired consistency of dal.
Heat oil in a pan and add curry leaves, cumin seeds and mustard seeds. Allow them to crackle.
Stir continue and add chopped ginger-garlic along with green chillies.
Fry for one minute and add chopped tomatoes.
Cook for 2-3 minutes on medium flame, till tomatoes turns mushy.
Pour the prepared mixture over the dal and garnish with some finely chopped fresh coriander leaves.
Serve dal in individual bowls and sprinkle some chaat masala and black pepper.
Serve delicious hot moong dal with plain jeera rice.
Chef Tips:
Do not make this dal too thick or too watery, it should be medium in consistency while serving.
You can observe that I have used very limited flavors. Customize according to your taste and ingredients. This dal tastes great in any ways.
You can use butter or ghee instead of oil.