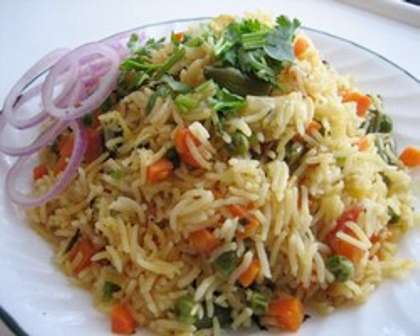 Vegetable Biryani is an easy preparation of basmati rice, healthy vegetables and awesome flavorful spices in microwave. The best use of Indian spices and beautifully decorated rice with dry nuts can really melts the mouth of everyone. The best use of microwave cooking can be done by making this simple yet very tasty biryani recipe.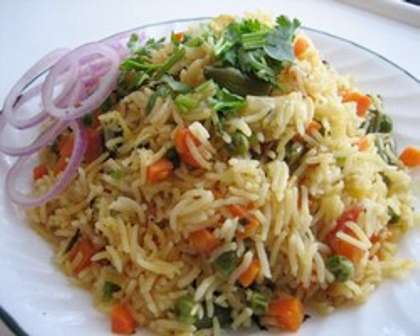 Preparation Time: 10-12 minutes
Cooking Time: 13-15 minutes
Servings: 4
Ingredients:
2 cups basmati rice boiled
1/4 cup cauliflower florets
1/2 cups french beans chopped
1/4 cup carrots chopped
1/4 cup potatoes diced
1/4 cup green peas
1 medium onion finely chopped
2 tbsp grated coconut
4 green chillies thinly chopped
1 inch ginger julienne
4-5 cloves garlic chopped/minced
A pinch of orange food color (optional)
1/2 tsp Kashmiri red chilli powder
1/4 tsp turmeric powder
1 tbsp coriander powder
1 tsp garam masala powder
1/2 tsp lemon juice
2 tbsp ghee
Salt to taste
For garnishing you need:
1/4 cup brown onions
Handful coriander leaves finely chopped
Few mint leaves chopped
Few cashew nuts blanched
Few almonds blanched
How to make Microwave Vegetable Biryani:
Combine the vegetables, add salt, grated coconut, ginger, garlic, green chillies and spices.
Mix very well and add 4 cups of water.
Also add food color and mix very well.
Transfer the mixture into a big microwave safe bowl and microwave on high for about 10 minutes.
Take out the microwave safe bowl from the microwave and shift the mixture in any normal bowl.
Grease the same microwave safe bowl with generous amount of ghee and spread a layer of vegetables.
Spread 1/2 the rice, brown onions, lemon juice and garnishing ingredients.
Again make the layers with the remaining rice, vegetables and other ingredients.
Spread the remaining ghee all over.
Microwave on high for the next 3 minutes.
Serve immediately.