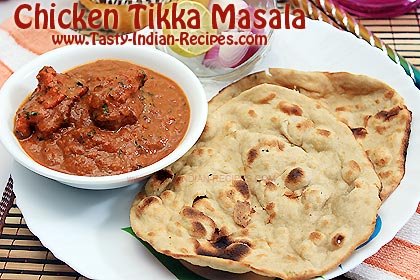 Easy Chicken Tikka Masala is an easy, delicious and flavorful main course dish. Boneless chicken is spiced up with lots of flavors and then garnish with cream and cilantro. This is the most easiest homemade chicken dish and always great to serve with roti, rice or naan.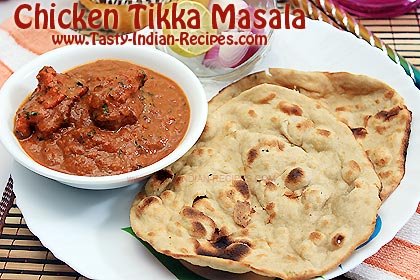 Preparation time: 10 minutes
Cooking time: 15 minutes
Servings: 4
Ingredients:
2 boneless chicken breasts (big Pieces)
2 tbsp curd
1 cup onion paste
2 cups tomato puree
1 tbsp ginger paste
1 tbsp garlic paste
4 green chillies chopped
1/2 tsp ground cumin
1 tsp paprika
1/2 tsp cayenne pepper
1/2 tsp red chilli powder
1 tbsp tikka masala
1 tbsp butter
1 tsp fresh lemon juice
1 bay leaf
1 inch cinnamon bits
2 tbsp fresh cream
1 tsp kasuri methi
Fresh cilantro chopped
Salt to taste
How to make Easy Chicken Tikka Masala:
Mix curd, salt, lemon juice, red chilli powder, tikka masala, ginger-garlic paste, and cumin power.
Add the pieces of chicken very well and keep in the refrigerator for an hour.
Arrange the marinated chicken onto the soaked wooden skewers.
Place in the oven to grill for about 8-10 minutes on high heat.
When the chicken is done, then set aside.
Melt the butter in a non-stick pan.
Add bay leaf and cinnamon bits along with onion paste, saute for few seconds.
Add green chillies and tomato puree, stir for few minutes over medium high heat.
Season with the salt and spices.
Add grilled chicken and cover the pan.
Simmer the flame and leave to cook for about 10 minutes.
Finally stir with fresh cream and kasuri methi.
Cook only for 2 more minutes.
Garnish with fresh cilantro and serve hot with roti or naan.
Chef Tips:
You can use oil or ghee instead of butter.
If you do not have grill, then you may bake the chicken pieces in the oven or can roast them in the pan.
Always go for the branded chicken tikka masala, which must be fresh and flavorful.