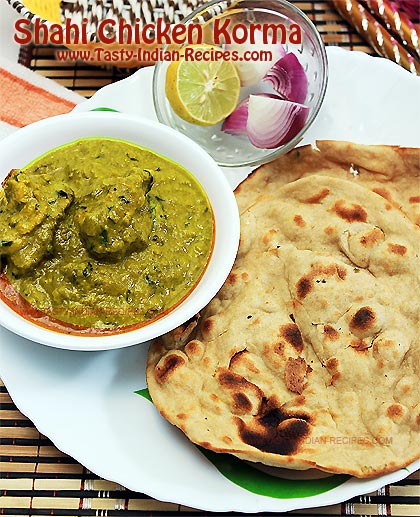 Shahi Chicken Korma is a rich Indian chicken dish made with the flavorsome of korma based ingredients. Chicken is simply cooked in the delicious paste of cottage cheese, spices and nuts. It is treated as one of the best Mughlai main course dish.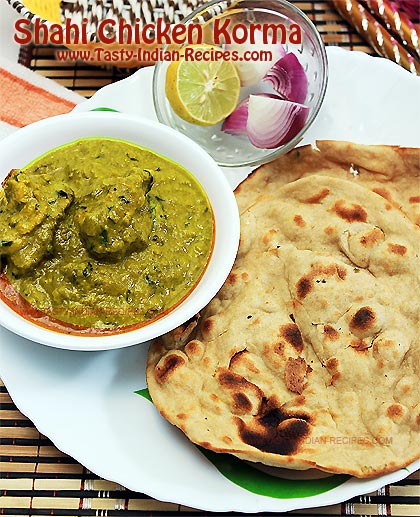 Preparation time: 10 minutes
Cooking time: 25 minutes
Servings: 4
Ingredients:
500 gms chicken
1 cup paneer grated
2 onions thinly chopped
2 tsp garlic paste
1 inch ginger paste
4-5 green chillies chopped
1/2 tsp red chilli powder
1/2 tsp turmeric powder
2 tsp coriander powder
2 tbsp korma masala powder
2 tbsp butter
1 tbsp cashew nuts and almonds paste
1 tsp lemon juice
Salt to taste
How to make Shahi Chicken Korma:
Clean the chicken and chop into thin pieces, apply salt and keep aside.
Melt the butter in a pan.
Add thinly chopped onion, ginger, garlic and green chillies.
Saute until onion translucent. Allow to cool.
Blend the onion mixture and make a smooth paste.
Heat the same pan and add onion paste.
Saute for few seconds and add grated paneer.
Stir with salt, red chilli powder, turmeric powder and coriander powder.
Mix well and cover the pan.
Simmer the flame and cook for about 4-5 minutes.
Now add chicken, lemon juice, paste of nuts and 1-1/2 cups of water.
Mix well and cover the pan.
Cook until chicken tenders and become little bit dry.
Finally add korma masala and coriander leaves.
Stir just for few seconds and serve hot with tandoori roti or naan.
Chef Tips:
If korma masala is not available then use garam masala powder.
If you do not want to add paneer, then too go ahead but korma dishes gets a delicious touch with little amount of paneer.