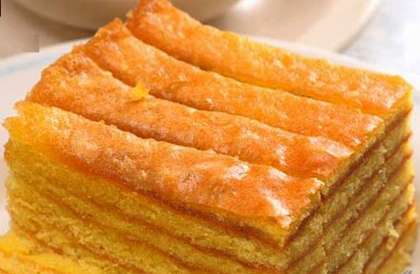 Bibinca is Goa's most special dessert dish. It's a multi layered Goan cake, made with refined flour, coconut milk, egg and cardamom. Easy in making, and multi-flavored layers are awesome while eating.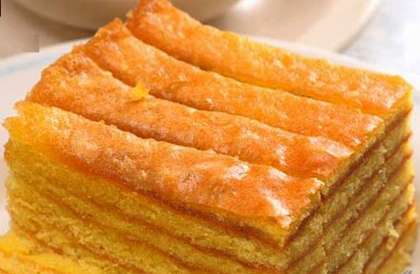 Preparation time: 10 minutes
Cooking time: 15 minutes
Servings: 6
Ingredients:
1 cup refined flour
4 cups coconut milk
3 cups castor sugar
15 egg yolks
1-1/2 cu ghee
1 tsp grated nutmeg
3 tsp cardamom powder
Few toasted almonds to garnish
A pinch of salt
How to make Bibinca :
Combine the castor sugar in coconut milk and stir continue till the sugar completely dissolves in milk.
Cream egg yolks till light and fluffy.
Add the egg mixture into coconut mix and stir thoroughly.
Mix continue, until no lumps are left.
Add grated nutmeg and cardamom powder and mix again.
Preheat the oven at 350 degrees F.
Take a deep pot about 6" in diameter and heat up a tbsp of ghee in it.
When it is hot, pour out a cup of batter and bake till brown.
Mix in another tbsp of ghee and over it pour out another cup of batter and bake till brown.
Continue in this manner till the whole batter is used.
Decorate the last layer with a few slivers of toasted almonds and bake.
When it is done, turn it upside down and cool.
Cut into thin slices and serve.