Egg Vindaloo is the special Goan Recipe, cooked with boiled eggs and flavored with spices and vinegar.  Vindaloo is a spicy Goan curry which is generally made with chicken and pork. Today I tried cooking the same flavorful recipe with some different ingredients. Eggs in Vindaloo gravy looks stunning and now has become one of my favorite recipes.
Egg Vindaloo is also known as Curry Vindaloo and generally served with hot Indian roti or Steamed rice. For making perfect Vindaloo Egg Curry, you need to hard boil the eggs. Here is the simple recipe of Egg Vindaloo.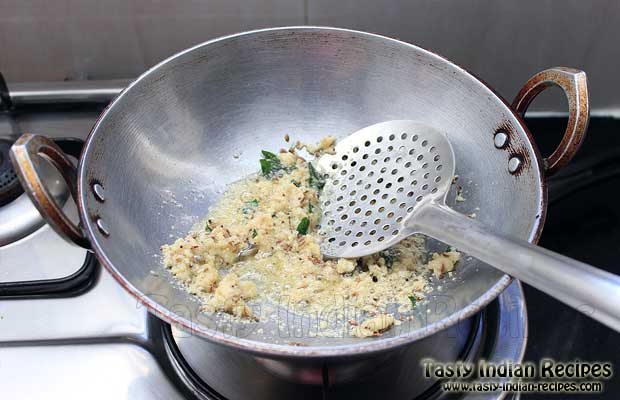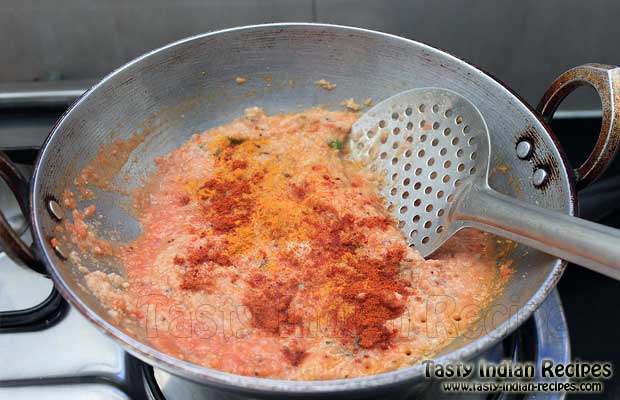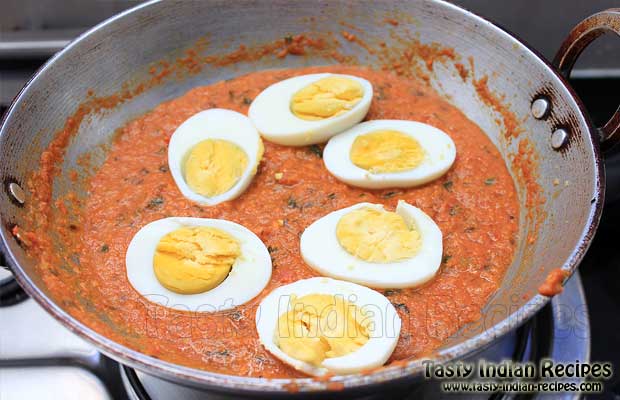 How to make Egg Vindaloo Recipe :
Egg Vindaloo Recipe is the special Goan Dish, cooked with Boiled Eggs and flavored with Coconut Milk and Vinegar.
Ingredients
6 big eggs
1 teaspoon ginger piece
6 cloves garlic
1 big onion
2 medium tomatoes
2 green chillies
1 teaspoon cumin seeds
2 whole Kashmiri red chillies
2 cloves
1 piece cinnamon
1-2 tablespoon sugar
1/2 teaspoon turmeric powder
1-1/2 teaspoon garam masala powder
2 teaspoon vinegar
1/2 teaspoon lemon juice
1/2 cup coconut milk
2 tablespoon oil
Few curry leaves
Salt to taste
Instructions
Boil the eggs, shell and cut into half or long halves. Also make the paste of ginger-garlic and onions separately. Make the puree of tomatoes along with green chillies.
Heat oil in a pan and saute cumin seeds, till starts spluttering. Add broken curry leaves and saute continue. Mix in ginger-garlic paste, simmer the flame and stir fry the paste. Now add onion paste and stir constantly, to prevent it from sticking at the bottom of pan.
While mixing it, add kashmiri red chillies, cloves and cinnamon as well. When the onion paste is little browned, then add tomato puree. Saute for a few minutes, mix in salt, sugar, milk, lemon juice, vinegar and spices.
Now carefully stir in egg halves or pieces and gently mix it. Stir fry till the gravy thickens.

Egg Vindaloo is ready to serve.
Notes
Egg Vindaloo is also known as Curry Vindaloo and generally served with hot Indian roti or Steamed rice.
Tasty Indian Recipes
Chef Tip:
Egg Vindaloo is best to serve with Steamed Rice, Roti or Naan.
Further Reading:
If you are looking for more Egg Recipes, then do check Egg Fried Rice, Egg Paratha and Egg Pakoda.