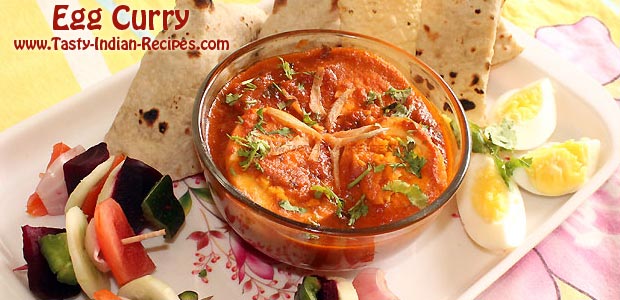 Egg Curry Recipe is the Simple and Quick Indian Egg Dish made with Boiled Eggs, Onion, Tomatoes and Spices. Sometimes when you don't have enough time to plan lunch or dinner then you can straight forward go with it. Your kids will also like it.
Indian Egg Curry  is generally served with Tandoori Roti or Butter Naan. Boiled eggs are simply cooked in tomato based Indian gravy or curry and turned into a delicious Egg Curry recipe.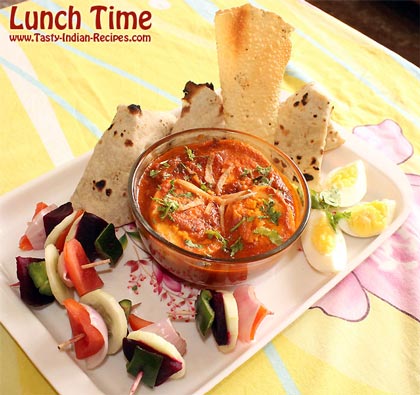 How to make Egg Curry Recipe:
Egg Curry is the famous Indian Egg Dish made with Boiled Eggs, Onion, Tomatoes and Spices.
Ingredients
4 eggs (well boiled)
1 tbsp ginger paste
1 tbsp garlic paste
4 green chillies
1 big onion
4 tomatoes (pureed)
1/2 tsp red chilli powder
1/2 tsp turmeric powder
1 tsp coriander powder
1/2 tsp cumin seed powder
1/2 tsp fennel seed powder
1 tsp garam masala powder
1/2 tsp lemon juice
1/2 teaspoon kasuri methi
Salt to taste
Fresh cilantro chopped
2 tbsp cooking oil or ghee
Few ginger Julienne (for garnishing)
Instructions
Remove the shell of boiled eggs & keep aside.
Cut the onion into slices, fry in same oil and then grind to make a smooth paste.
In the same pan of hot oil add ginger-garlic paste and green chillies. Saute for few seconds and add onion paste.
Cook on medium high flame, till the onion paste is very well cooked and then add tomato puree. Mix red chili powder, turmeric power, coriander powder, cumin powder, fennel seed powder, garam masala powder and salt to taste.
Cook on medium high flame, uncovered till the oil begins to separate.
Now mix in about 1/2 cup of water and cook till the curry becomes dry. Stir in lemon juice and kasuri methi.
Cut each egg into 2 pieces and carefully place them in gravy by keeping little difference.
Reduce the flame, cover the pan and leave to cook for 2-3 minutes.
Garnish the dish with good amount of chopped cilantro and ginger julienne.
Serve hot with Indian roti, paratha or naan.
Notes
This same style gravy can be used for making Paneer or any other Vegetable Recipe.
Tasty Indian Recipes