Masala Aloo Bhindi is the delicious blend of fried okra (bhindi) and aloo (potatoes) in the bhuna masala of onion and tomatoes. It is an authentic style bhindi recipe with the flavors, spices and seasoning. Masala aloo bhindi can be served as a side dish with dal and rice or as a main dish with the roti or pulao.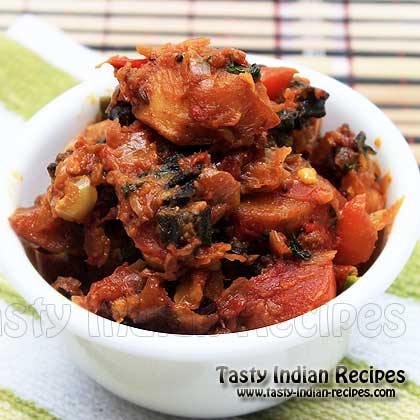 How to make Masala Aloo Bhindi:
Masala Aloo Bhindi Recipe
Masala Aloo Bhindi Recipe is the delicious blend of fried okra (bhindi) and aloo (potatoes) in the bhuna masala of onion and tomatoes.
Ingredients
250 gms okra / lady fingers / bhindi
2 potatoes peeled and cut in small pieces
1 big onion finely chopped
4 tomatoes finely chopped
1 bay leaf
3-4 curry leaves
4-5 cloves garlic minced
1 inch ginger minced
4 green chillies chopped
1/2 tsp red chilli powder
1/2 tsp turmeric powder
2 tsp coriander powder
1 tsp garam masala powder
1/2 tsp cumin powder
1/4 tsp amchoor powder
Oil to deep fry
Fresh coriander leaves chopped
Salt to taste
Instructions
Wash the bhindi thoroughly in the water, pat dry with the kitchen towel and then chop into tiny pieces.
Heat the sufficient oil in a pan and deep fry the pieces of bhindi and aloo. Fry until water of bhindi and potato evaporates, do not make them too crispy. Keep aside on paper napkin.
Remove the oil from a pan and leave only about 1 tsp of oil. Add bay leaf and curry leaves. Saute for few seconds. Now add chopped green chillies, ginger and minced garlic. Fry for a minute. Add the onions and saute till they turn translucent.
Now add chopped tomatoes, salt, red chilli powder and turmeric powder. Stir continuously on low flame until tomatoes are fully cooked and bhuna gravy is mashed in the spices. Add fried bhindi's and potatoes. Also add turmeric powder, coriander powder, garam masala powder and cumin powder.
Cover the pan and leave to cook on low flame in the water of onion and tomatoes. Stir occasionally in between. Check the seasoning also check the tenderness of potatoes. Turn off the gas if potatoes are cooked, garnish with fresh coriander leaves and serve.
Notes
Add water if mixture or bhuna gravy looks too dry. Do not fry okra and potatoes for long time, as they should not be too crispy for making this dish.
Tasty Indian Recipes