Aloo Bhindi Masala Recipe is the favorite Combo of every Indian. Aloo (Potatoes) and Bhindi (Lady fingers/Okra) are cooked in the spicy masala of onion and tomatoes and turns into a very tasty Indian dish.
In Indian households, aloo bhindi is cooked in various different ways, such as Aloo Bhindi Fry, Masala Aloo Bhindi, and Tawa Aloo Bhindi, etc. Indian people just love this combination of aloo and bhindi, and this is one of the favorite combination of my family as well, so I always keep bhindi in my refrigerator and cook it very frequently in different ways.
While making this aloo bhindi masala recipe, I have used a pressure cooker, which ultimately saved lot of my time. I was very busy on that day and couldn't do much planning for lunch, but when bhindi was available, so I quickly went ahead with it.
Aloo Bhindi Masala recipe in a pressure cooker really turned out very well, because I had given a unique taste to the masala in which aloo and bhindi are cooked. I used good amount of ginger, garlic, green chilies and coriander at the time of blending the puree, and for me it was a nice experience to do cooking in such way. Now after making aloo bhindi in this masala, I got some new techniques and ideas of making different vegetables in same way, hopefully my all recipes will turn good just like this.
This recipe was so simple and the taste was awesome! We all had it with Roti and I am sure it will go well with any Pulao or Steamed Rice as well. So try by yourself and enjoy!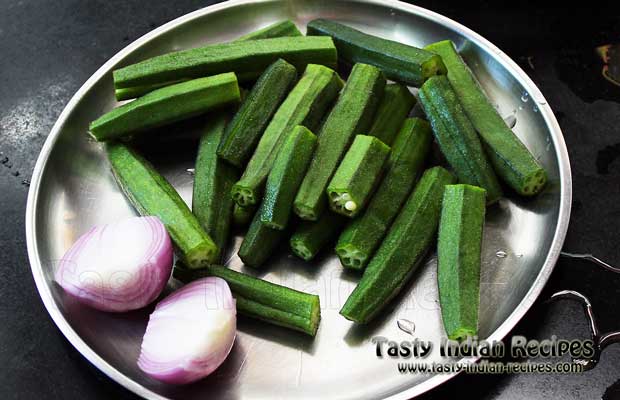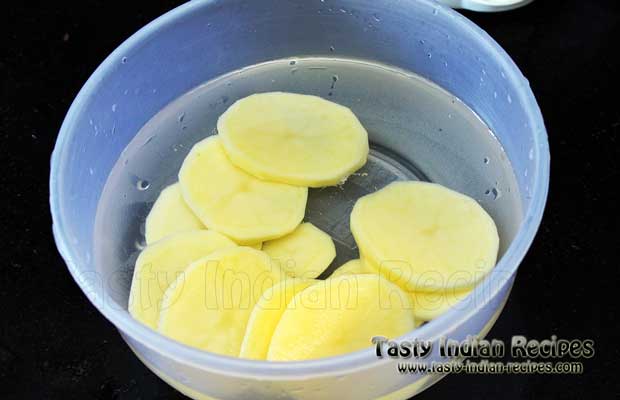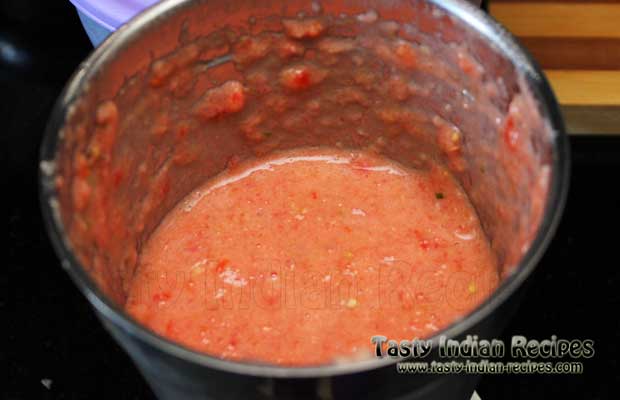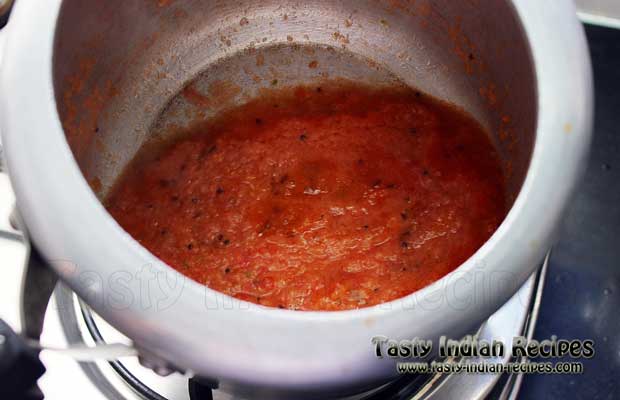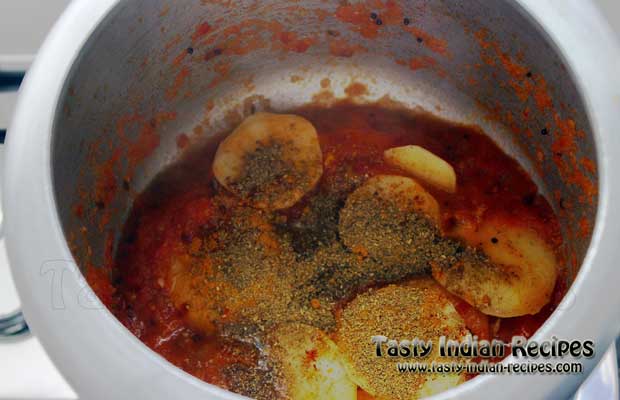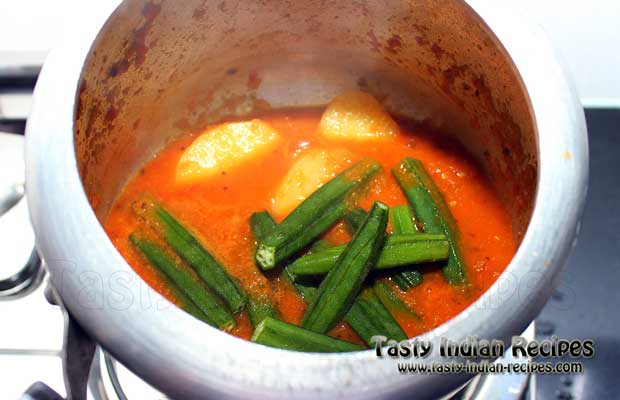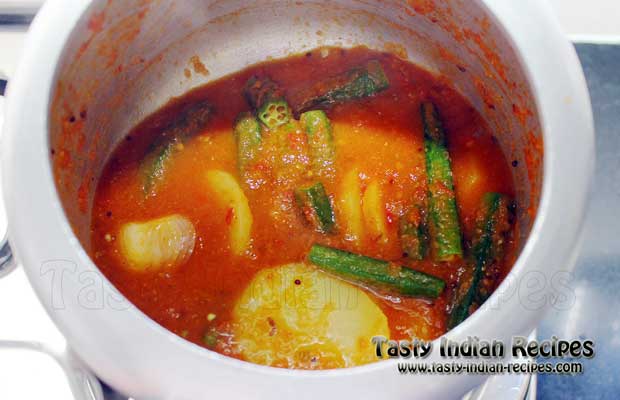 How to make Aloo Bhindi Masala Recipe:
Aloo Bhindi Masala Recipe
Aloo Bhindi Masala Recipe is very easy Indian Recipe. Here Aloo and Bhindi are cooked in the spicy masala of Onion, Tomatoes and Coriander Leaves.
Ingredients
250 gm Bhindi (Okra / Lady fingers)
1 medium potato
2 onions
2 tomatoes
8 cloves of garlic
1-1/2 inch ginger
4 green chilies
1/2 cup fresh coriander leaves
1/2 tsp cumin seeds (jeera)
1/2 tsp mustard seeds (rai)
1/2 tsp red chili powder
1/2 tsp turmeric powder
1 tsp coriander powder
1/2 tsp garam masala powder
1 tbsp oil
Salt to taste
Instructions
Rinse the bhindi in running water and pat dry with clean kitchen towel. Cut the head and tail of each bhindi and slit them vertically and check in the middle. Also chop one onion in big chunks, just like shown in image. Keep them aside.
Cut the potatoes in medium sized round slices and put them in water.
Chop 1 onion and 2 tomatoes coarsely and put them in the grinder along with ginger, garlic, 4 green chilies and 1/2 cup of coriander leaves. Grind everything together to get a smooth puree out of it.
Heat 1 tbsp oil in a pressure cooker and add cumin and mustard seeds. When the seeds starts spluttering, then add prepared puree of onion and tomatoes.
Cook it on low flame for 2-3 minutes to get a nice color of it.
Now add only slices of potatoes and mix well. Stir in 1/2 tsp red chili powder, 1/2 tsp turmeric powder, 1 tsp coriander powder and salt to taste.
Cook the potatoes for 2-3 minutes with lid on. Here we are cooking potatoes first, because bhindi doesn't take much time to cook compare to potatoes.
Now when potatoes are little tender, add bhindi, onion and 1/2 tsp garam masala powder.
Mix it very well with potatoes and now mix about 1 cup of water in it.
Cover the pressure cooker with its lid, but do not allow it to whistle, it means you just need to cook it on the steam. That's the trick of cooking aloo bhindi masala without whistling.(Note: If you want to taste a real flavor of this masala in aloo and bhindi, then do not allow to whistle the pressure cooker).
Just stand and keep watching that the pressure cooker is at its highest steam and you just need to boil in medium flame for 4-5 minutes until the masala coats the aloo and bhindi.
Turn the gas off and wait for few minutes without escaping the steam from cooker.
Uncover and check it. You can garnish the dish with some finely chopped coriander leaves.
Aloo Bhindi Masala is ready to serve.
Notes
If you want, you can add fried bhindi and aloo in this gravy, but then the dish will be high in calories. I used a technique of cooking it without whistling the pressure cooker, it's because bhindi gets cooked very fast and turns mushy and soggy if over cooked.
Tasty Indian Recipes