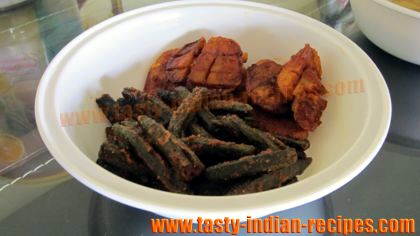 Tawa Aloo Bhindi is tremendous fried recipe made on the griddle with less oil but full of spices and flavors. This recipe is very delicious and perfect to serve as a side dish along with dal and rice or with any Indian flat bread. It also can be served as a unique breakfast with the chapati or bread slice.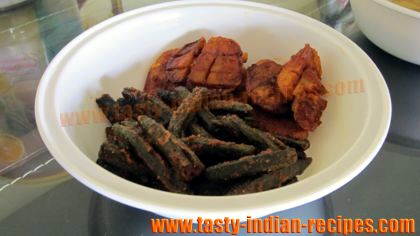 Preparation time: 10 minutes
Cooking time: 20 minutes
Servings: 4 persons
Ingredients:
4 potatoes (peeled and washed)
100 gms ladyfinger (green bhindi)
1 tsp red chilli powder
1/2 tsp turmeric powder
2 tsp coriander powder
1 tsp garam masala powder
1/2 tsp cumin powder
1/4 tsp dry mango powder
Salt to taste
How to make Tawa Aloo Bhindi:
Cut each potato vertically into two or three halves.
Touch up or use a sharp knife through each potato piece.
Also cut the bhindi's vertically and run a pointed knife in the center of the bhindi.
In a mixing bowl add all the spices, mix well.
Heat a tawa on low flame and sprinkle 1 tsp of vegetable oil.
Fill the mixture of spices one by one in the potatoes and bhindi's.
Coat all of them well with the spices and arrange on heating tawa.
Sprinkle little bit of oil on top of the veggies.
Leave to cook on low flame for 5-6 minutes or until turn into nice color.
Flip them one by one and again drizzle some oil.
Check the softness of vegetables with the knife.
If they are cooked from both the sides then serve with rice and dal or with chapati.
Chef Tips:
If you are in hurry then you may cover the tawa with the lid and leave to cook on low flame, in this way veggies will cook fast.
If your mixture is over, but veggies are left, then make more mixture in the same way and stuff in the veggies.