Vegetable Pulao Recipe is a versatile, North Indian Rice preparation. Basmati rice are cooked with choice of vegetables. Simply a real and authentic rice recipe, tastes out of this world, when served with Dal fry and any dry dish.
Today let us show you, how to prepare this tasty and easy homemade vegetable pulao dish. This rice recipe is one of my favorite pulao, and I generally serve it with Dal tadka and aloo bhindi fry. You can make your own favorite meal of this pulao with other vegetables, dal recipes and dry side dishes.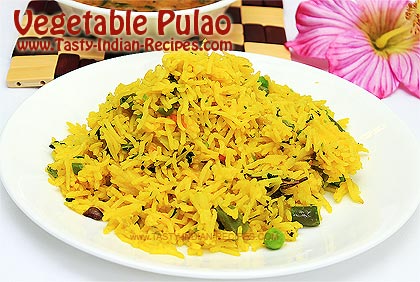 How to make Vegetable Pulao Recipe:
Vegetable Pulao Recipe is a versatile, North Indian Rice preparation. Basmati Rice are cooked in Vegetables and flavored with Whole Garam Masala.
Ingredients
2 cups basmati rice
1 cup cauliflower, florets
1/2 carrot, (peeled and chopped)
1 cup french beans, chopped
1/2 cup green peas (fresh or frozen)
1/2 tsp turmeric powder
1 tsp oil / butter
Salt to taste

Whole Garam masala for flavoring the pulao:

1 tsp cumin seeds
1 bay leaf
2 cardamoms
1 inch cinnamon
2 cloves
2-3 black peppercorns
Instructions
Rinse the rice in running water and soak in 4 cups of water for about 20 minutes. Boil the rice by adding little bit of salt. Drain and keep aside.
Rinse the vegetables in running water and keep aside. You can choose to add your own whole garam masala.
Melt butter in a pan and saute whole garam masala for a few seconds. Add vegetables and salt to taste. Toss and cook the vegetables on a moderate flame for a few minutes, till they are almost done. Add boiled rice and toss them with vegetables and whole garam masala. Check salt and add as per taste. Also mix in turmeric powder.
Cook only for 2 more minutes and serve.
Notes
You can add your favorite vegetables in this pulao.
Tasty Indian Recipes
Chef Tip:
Vegetable pulao is ready to serve with Dal Fry and aloo bhindi fry.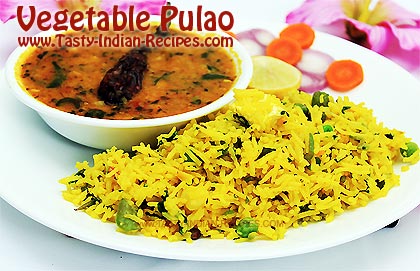 Further Reading:
Read one more easy way of making Vegetable Pulao at home.
This Quick Vegetable Pulao can be one of the best option to choose from our Lunch Box Recipes.