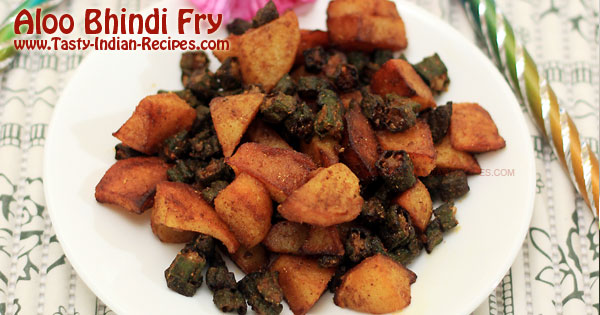 Aloo Bhindi fry is a simple and tasty dry dish, best to serve as a side dish with any gravy, curry or dal recipe. It's a lovely accompaniment with Indian meal. I generally serve this subzi with steamed rice and dal fry. My family loves this combination of aloo and bhindi a lot.
I remember, once we had a trip to Hyderabad and there in a restaurant, we ordered fry aloo bhindi for lunch, it was super tasty and easy in cooking. Thereby I got an Idea of some spices, that we can add in this recipe for making it more flavorful. Since that day, I'm cooking it with the same taste, which I had in that restaurant of Hyderabad.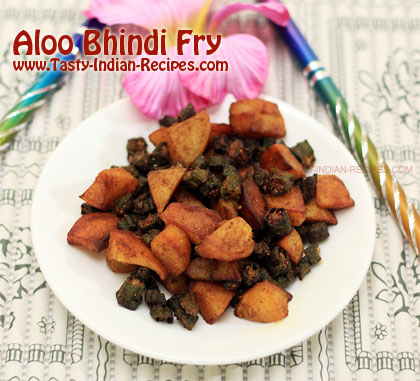 Most amazing thing is that you can easily make this superb tasty dish in just a little oil. Bhindi leaves lot of water, so I have fried them little more, to get a crispy flavor in my dish. I like to pair this dish with variety of rice recipes.
How to make Aloo Bhindi Fry Recipe :
Aloo Bhindi Fry is the famous North Indian (Punjabi) dry dish, best to serve with variety of dal and rice recipes.
Ingredients
2 medium potatoes
250 gm bhindi /okra/ladyfingers
3/4 tsp red chilli powder
1/2 tsp turmeric powder
1 tsp coriander powder
1/2 tsp cumin seed powder
1/2 tsp garam masala powder
1/4 tsp dry mango powder (amchur)
4 tbsp cooking oil
Salt to taste
Instructions
Clean and chop lady fingers into bite size pieces.
Also chop the potatoes in small cubes, rinse and keep aside.
Aloo Bhindi Fry Recipe step1
Heat oil in a pan and add chopped potatoes.
Fry continue on a medium high flame, till potatoes are evenly little browned.
Remove from the pan and keep aside.
Aloo Bhindi Fry Recipe Step 4
Now put bhindi in same pan and keep frying, till it turns crispy and water is completely evaporated.
When the bhindi is almost done, add previously fried potatoes and mix well.
Season with salt and spices.
Aloo Bhindi Fry Recipe Final
Toss and mix very well to get a nicely cooked aloo bhindi fry. Your Aloo Bhindi Fry is now ready to be served.
Notes
Tasty Indian Recipes