Veg Chilli Milli is the Punjabi delicacy made with Shredded Cabbage, Carrot and Capsicum. These mixed vegetables are cooked in tomato based gravy and then spiced up with fresh Indian spices. I like to garnish this dish with some fried green chilies. Because the name of the dish is Veg Chilli Milli and fried green chilies brings a warm flavor in it.
It's a famous dish in our near by restaurant and a favorite dish of my hubby. Since he likes the dish very much I thought of attempting my version at home after tasting this twice there.
It is true that sometimes we just can not match the taste of the food, that we had in the restaurants, but then too I like to try everything at home. I almost matched the taste, what we had at the restaurant. The dish turned out a tempting and a finger licking and we enjoyed it with Tandoori Roti and Butter Naan. This Mix Veg Chilli Milli/ Vegetable Chilli Milli made my day a "HAPPY DAY".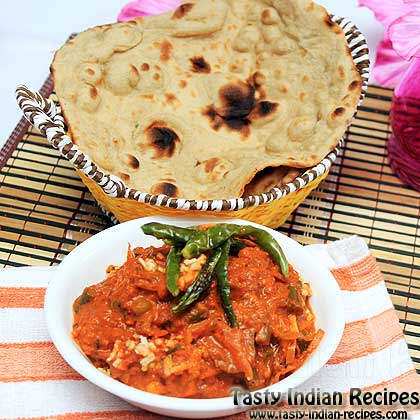 How to make Veg Chilli Milli Recipe:
Veg Chilli Milli Recipe is made with Shredded Cabbage, Carrot and Capsicum and spiced up with chilies and spices.
Ingredients
1/2 cup cabbage, shredded
1/2 cup carrot, shredded
1/2 capsicum, thinly sliced
1 cup onion paste
2 cups tomato puree
1/4 cup french beans, chopped
1/2 cup paneer
1/2 cup milk
1 tablespoon ginger-garlic paste
2 green chilies, chopped
1/2 teaspoon Kashmiri red chili powder
1/2 teaspoon turmeric powder
1/2 teaspoon coriander powder
1/2 teaspoon garam masala powder
1/2 tablespoon kasuri methi
1/8 teaspoon red-orange food color
2 teaspoon oil or butter
Few coriander leaves, finely chopped
1/2 teaspoon fresh cream
Salt to taste
1/2 teaspoon oil
1/2 teaspoon grated cheese (optional)
4 whole green chilies (for garnishing)
Instructions
Melt butter in pan and add 1/2 tsp Kashmiri red chili powder, 1/2 tsp turmeric powder and 1/2 tsp coriander powder. Saute for a few seconds and then add onion paste.
Cook the onion paste for few seconds and add chopped green chilies along with ginger garlic paste.
Cook continue on a low flame till the raw flavor disappears. Now add tomato puree, cabbage, carrot, capisicum and french beans. Mix in salt to taste and cover the pan.
Leave to cook for about 2 minutes and then mash the paneer with your hands and mix in gravy with vegetables. Paneer brings a thick consistency in it.
Add 1/2 tsp coriander powder, 1/2 tsp garam masala powder and 1/2 cup of milk.
Keep the flame very low after adding milk and give a nice stir.
Finally add 1/2 tbsp kasuri methi, red-orange food color, 1/2 tsp fresh cream and few coriander leaves.
Cook for 3-4 minutes and finally sprinkle some grated cheese all over. Heat oil in a saucepan and slit the green chilies vertically. Shallow fry in oil for a few seconds and garnish on top of the dish.
Notes
You can use all three colors of capsicum to make the dish more appealing. You can use some other vegetables such as cauliflower, pumpkin and green peas in it. You can garnish it with blanched cashew nuts as well.
Tasty Indian Recipes
Further Reading:
You may also like to read Veg Chilli Milli Kebab, Chicken Chilli Milli Kebab and Paneer Chilli Milli Kebab.