Aloo Matar Mughlai is the combination of Potatoes (Aloo) and Green peas (Matar). Mughlai is the unique type of flavorful gravy, that consist yogurt, milk and Indian spices. Peas Potato in Mughlai Gravy is my favorite north Indian delicacy and I generally make it at home either for lunch or for dinner.
My whole family enjoys this dish with plain Indian Roti and sometimes when I have everything like dal, rice, roti, Salad and papad to serve on dinning table, then I also add Aloo Matar Mughlai to complete my meal menu.
It is an ultimate dish of Potatoes and Green peas, and I have cooked it in saffron and milk based gravy. Aloo Matar is a medium dry dish, but you can add more water to get more gravy.
Yesterday my hubby wanted to eat this dish and fortunately I got a good time to take all the pictures for you. So here is the recipe of Aloo Matar Mughlai.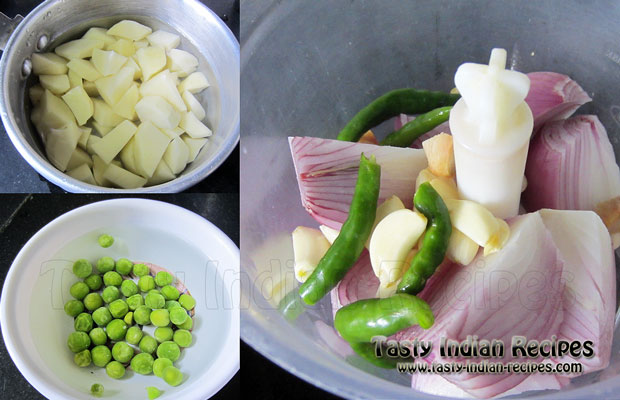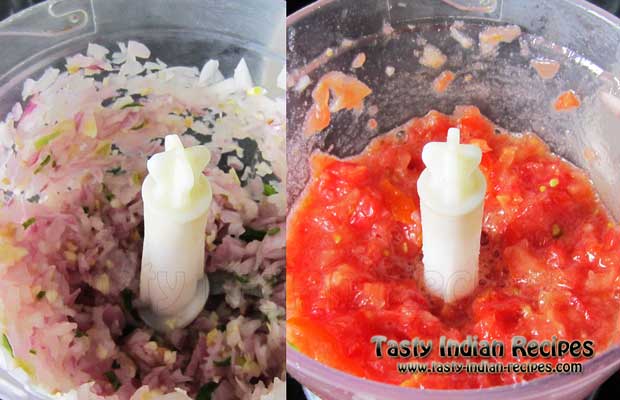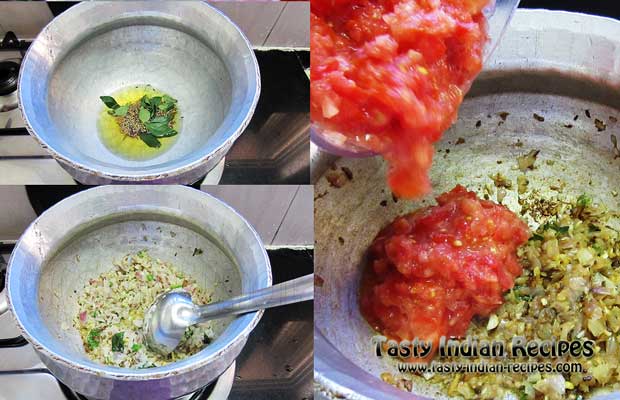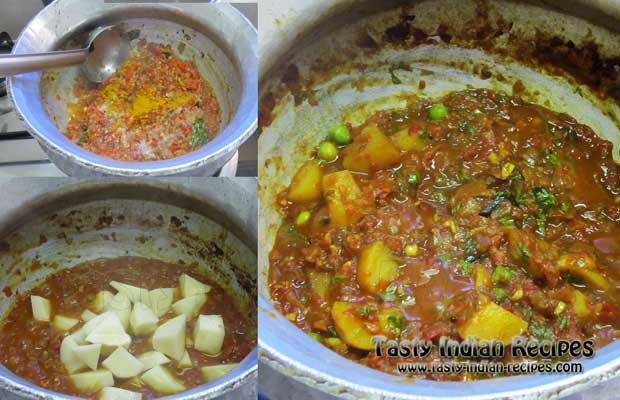 How to make Aloo Matar Mughlai Recipe:
Aloo Matar Mughlai Recipe
Aloo Matar Mughlai Recipe is cooked with Potatoes (Aloo) and Green Peas (Mattar). It is the special North Indian delicacy and Saffron based Gravy Recipe.
Ingredients
4 big potatoes (peeled and diced)
2 cups green peas (mattar), fresh or frozen
2 onions, diced
4 green chillies
1 teaspoon ginger
2 teaspoon garlic
4 medium tomatoes, chopped
1/2 cup milk
1/8 teaspoon saffron (kesar) strands
2 tablespoon thick yogurt (curd / dahi)
1/2 teaspoon red chilli powder
1/2 teaspoon turmeric powder
3/4 teaspoon coriander powder
1/2 teaspoon garam masala powder
1/2 teaspoon mustard seeds
1/2 teaspoon cumin seeds
Few curry leaves
2 tablespoon fresh coriander leaves, fine chopped
2 tablespoon ghee / oil
Salt to taste
Instructions
Chop the potatoes in cubes, keep in water. Also keep green peas in water. (In this way, vegetables remain good and tenders very fast while cooking).
Mix the onion, green chillies, ginger and garlic in a chopper. Chop them finely or you can cut them with knife. But make sure to cut them finely.
Mix the onion, green chillies, ginger and garlic in a chopper. Chop them finely or you can cut them with knife. But make sure to cut them finely.
Heat oil in a pan and stir fry cumin seeds, mustard seeds and curry leaves for a few seconds. Add chopped mixture of onion and cook continue. After the onion is translucent and little browned, add chopped tomatoes. Mix in little water and stir continue on a medium high flame.
Now add milk, saffron and curd and reduce the flame.
Rinse the diced potatoes and green peas very well and add into gravy. Add salt and spices. Cover the pan and leave to cook for about 7 minutes.
Garnish with freshly chopped coriander leaves.
Serve hot with roti, naan or kulcha.
Notes
Aloo Matar Mughlai Recipe tastes great, when cooked in medium dry gravy. You can add cashew nuts paste as well.
Tasty Indian Recipes
Chef Tips:
Aloo Aloo Matar Mughlai is generally served with Indian roti or Plain naan.
Dried Fenugreek Leaves (Kasuri Methi) can be used for garnishing.
Further Reading:
You may also like Stuffed Brinjals and Mix Vegetables Patiala Style.