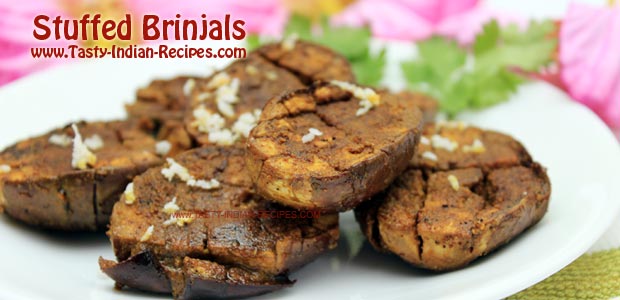 Brinjal is an eggplant and there are many different ways of making it. Stuffed brinjals is the most favorite dish in my family. I generally use baby eggplants or small eggplants for making it, but today it is an urgent demand of my hubby, hence I'm making it with regular brinjals.
I will simply prepare the mix spice powder and stuff into my brinjals, pan fry them for a few minutes and they will be ready to serve with my soya chunks curry and plain roti.
Bharvaan Baingan is a very good option for the vegetarians and in my blog, I have shown many ways of making it. According to me, this Stuffed Eggplant Recipe is the best brinjal dish so far. All brinjal lovers, especially the one who are missing stuffed brinjals, will surely make this a staple.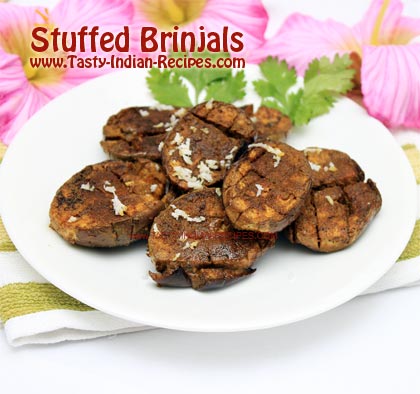 Prep time:
Cook time:
Total time:
Yield: 4 servings
Ingredients required for making Stuffed Brinjals Recipe:
250 gm regular brinjals (baingan / vangi)
3/4 tsp red chilli powder or as per your taste
1/2 tsp turmeric powder
1-1/2 tsp coriander powder
1/2 tsp garam masala powder
1/2 tsp roasted cumin seed powder
1/4 tsp dry mango powder (amchur)
Salt to taste
2 tbsp oil
How to make Stuffed Brinjals Recipe :
Wash the brinjals in running water and pat dry with clean kitchen napkin. Cut the brinjals in half and slit each piece by making a criss-cross pattern, so that we can fill the spice mix. Mix all the dry spices in a bowl.

Heat oil in a pan. Stuff the brinjals with prepared spice mix and place in the heating oil over moderate flame. When all the brinjals are very well arranged in the pan, simmer the flame and cover them.

Leave to cook for 3-4 minutes, till they are little browned. Flip them upside down, drizzle few drops of oil and cook only for one minute, else brinjals will get burnt. Flip again and make sure, the skin side of brinjal is down.

Cook for 2 more minutes.
Serve with Indian flat bread or puri recipe.

I generally serve it with quick vegetable pulao, it's yummy.