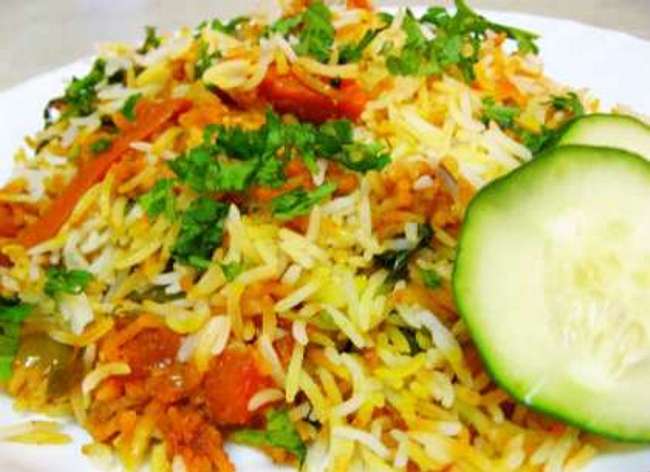 Quick Vegetable Pulao is extremely quick but yet very tasty pulao recipe, here rice are cooked with vegetables and whole garam spices. There is no need to follow a lengthy procedure, even the bachelor's can easily make this delicious pulao recipe.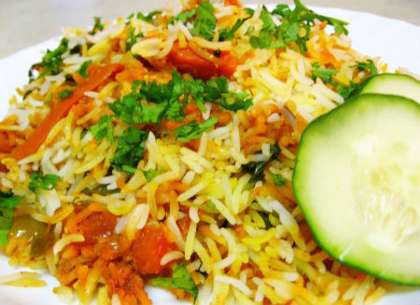 Preparation time: 15 minutes
Cooking time: 20 minutes
Servings: 5-6
Ingredients:
2-1/2 cups rice
1 big onion finely sliced
3-4 green chillies chopped
2 potatoes chopped in small pieces
1 cup cauliflower chopped
1 cup french beans chopped
1 carrot peeled and chopped
2-3 cloves
1 inch cinnamon bits
1 Kashmiri red chilli
1 bay leaf
2-3 black peppercorns
2 small cardamoms
2 tbsp oil/ghee
1/2 tsp red chilli powder
1/2 tsp turmeric powder
1/2 tsp fresh lemon juice
Salt to taste
4 cups water
How to make Quick Vegetable Pulao:
Wash the rice 2-3 times in normal tap water and soak them for about an hour.
Drain and keep aside.
Heat oil in a pan and add whole garam spices.
Saute for few seconds and now add sliced onion.
Fry until the onions golden brown and then dd all the vegetables.
Stir in the salt and spices.
Add some water and cook until the veggies and potatoes tender.
Add the drained rice and adjust with some more salt.
Mix well.
Add 2 cups of water and cover the pan for first 2 minutes.
Uncover and keep stirring.
When the rice starts boiling, then reduce the flame and cover and cook till the rice are done.
Serve this quick vegetable pulao with pickle, raita and roasted papad.