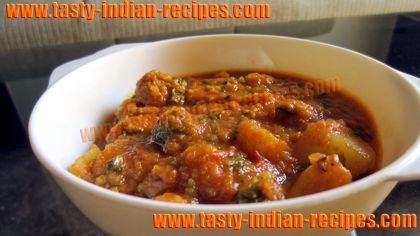 Soya Chunks Curry is the delicious main course dish made with soyabean chunks and potatoes. This is a medium thick gravy recipe, spiced up with the Indian herbs and spices. Today I'm going to tell you the easy and quick way to make spicy and tasty nutri nuggets with potatoes in the blending masala of onion and tomatoes.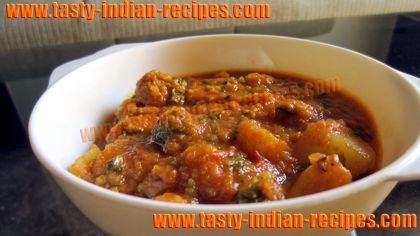 Preparation time: 10 minutes
Cooking time: 25 minutes
Servings: 3-4
Ingredients:
1 cup nutri nuggets (big soya bean chunks)
2 medium size potatoes cut into pieces
1 big onion thinly chopped
5-6 tomatoes chopped
4 green chillies chopped
2 tsp ginger-garlic paste
1/2 tsp red chilli powder
1/2 tsp turmeric powder
2 tsp coriander powder
1 tsp garam masala powder
1/4 tsp dry mango powder
1/2 tsp cumin (jeera) powder
2 tsp vegetable oil
Fresh cilantro chopped
Salt to taste
How to make Soya Chunks Curry:
Heat a pressure cooker and add oil.
When the oil starts heating then add green chillies and ginger-garlic paste.
Saute for few seconds and add onion. Cook for few seconds.
Add chopped tomatoes, salt, red chilli powder and turmeric powder.
Cook for 3-4 minutes on low flame.
Now turn the gas off and leave to cool this mixture for few minutes in the cooker only.
With the help of electric hand blender, blend this mixture well.
Again turn on the gas and keep the cooker on high flame.
Now add pieces of potatoes and nutri nuggets.
Mix well and add coriander powder and garam masala powder.
Add 2 cups of water and cover the cooker with its lid.
Wait for 6 whistles (It will take about 5-6 minutes).
Do not open the cooker until full steam come out.
Uncover and add little bit of water if required, also add cumin powder and dry mango powder.
Garnish with fresh cilantro and wait for few boils.
Serve hot with roti or rice.
Chef Tips:
Do not add more water, this dish should be neither too watery nor too thick, so try to make gravy of medium thick consistency.
I have told you the shortest way of making this dish in the cooker by using hand blender, the other method is you can boil the nutri nuggets and potatoes, make the gravy separately and then mix. It will be the long way method and also time consuming. Try in the way I have told, trust me It would be so wonderful and yummy.