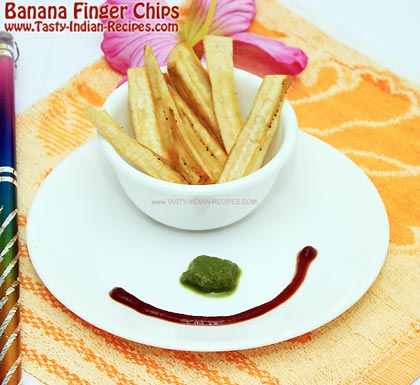 Banana Finger Chips are just like french fries. But here they are made with raw bananas instead of potatoes. Slices of banana are fried and flavored with chaat masala, which also makes them perfect  fasting recipe. Let me tell you how to make healthy and homemade Banana Finger Chips in just few minutes.

How to make Banana Finger Chips:
Banana Finger Chips Recipe
Learn how to make Banana Finger Chips in 7 minutes with recipe and photographs. Banana Finger Chips are deep fried and flavored with Spices and herbs.
Ingredients
2 raw bananas
1/2 teaspoon Chaat masala
1/4 teaspoon turmeric powder (optional)
Oil for deep frying
Instructions
Peel the bananas and cut into long strips of about 2 inch thick. Dip them in ice cold water for few minutes and then clean with kitchen towel.
Heat sufficient oil in a frying pan on medium flame. Drop few banana chips at a time in hot oil and fry till turns golden brown.
Stir continue for well cooking. Drain on oil absorbent paper napkin.
Sprinkle salt and chaat masala to taste.
Toss and serve yummy.
Notes
Always use good quality Raw Banana for making Banana Finger Chips. If you want you can add red chilli powder in it.
Tasty Indian Recipes
Further Reading:
Banana Chip at wikipedia
Banana Finger Chips are produced most in the State of Kerala, due to its high production of Banana in the state.
Banana Finger Chips is usually served in the Kerala meal, served at the time of festivals such as Onam or at occasion like wedding and parties.
Banana Finger Chips are very famous among children and hence perfect tiffin meal.
You may also read, how to make Banana Chips Recipe.