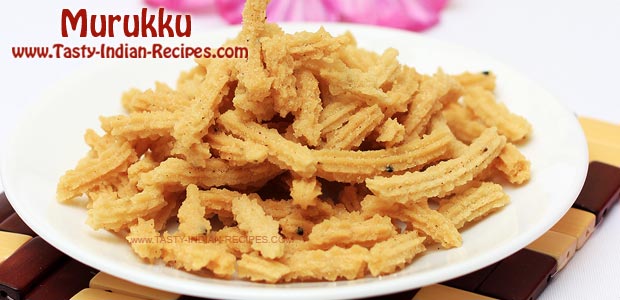 Back in the days, I remember we use to eat Mullu Murukku | Chakali| Magizhampoo with evening tea or coffee. We also use to carry this crispy snack dish on summer trips with our friends and family.
I used to be an important part of that gang and got treated with such types of many delicious snacks made by my aunt and mom. Really when those days will come back again? Anyways at least I can share memories of my olden days with you in my recipes.
Today I'm trying to recall those memories and tried to make murukku at home. Of course, I was guided by my mom at every step and it turned out pretty well. My murukku didn't disappoint me and they are extremely tasty and crispy to enjoy in leisure. Thanks mom.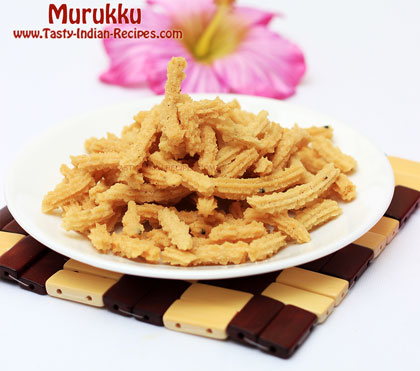 How to make Murukku Recipe:
Crispy Murukku Recipe is a Popular South Indian snack dish made with combination of Rice Flour and Dal. It is a festival Savory Dish to celebrate Diwali.
Ingredients
1/2 cup chana dal (split bengal gram)
1/2 cup yellow moong dal
1/2 cup rice flour
1 tsp unsalted softened butter
1/8 teaspoon asafoetida (hing)
1/2 tsp sesame seeds
Water to knead the dough
Oil for deep frying
Salt to taste
Instructions
Dry roast the moong dal and channa dal together till nice aroma comes. It will take about 5 minutes. Stir continue and do not get it burnt. When it is cooled down, grind into a smooth powder.
Sieve the powder of dal to get a smooth flour. Mix with the rice flour and keep aside. (The flour is ready to use for making murukku).
Now combine the flour, salt, sesame seeds, asafoetida and butter in a big mixing bowl. Gradually add water and make a soft pliable dough.
Take good amount of dough and place in a murukku presser. (equipment for making murukku)
Heat good amount of oil in a frying pan and make a round shape in a laddle.
Immediately pour in hot oil and cook on medium high flame until it starts sizzling.
When murukku starts to sizzle, take out from the hot oil and drain the excess oil in the kitchen towel. Repeat this process for the remaining dough.
When it is completely done, break it in small pieces or enjoy as it is with hot tea or coffee.
Notes
Murukku must be stored in an air tight container and enjoy its crispiness on daily basis. You can store it for 6-7 days.
Tasty Indian Recipes
Chef Tips:
The texture of the flour depends on how nice your mixer is.
Make sure to grind the mixture very well, else it will not come in proper shapes.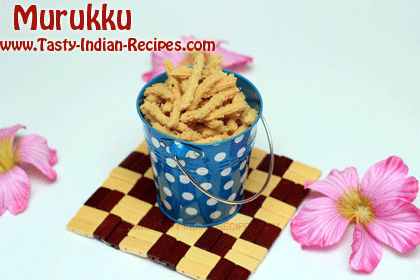 Further Reading:
Please read here for more Indian Snack Recipes