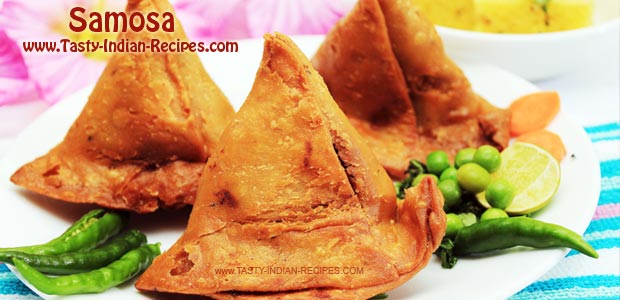 Samosa is the traditional Indian Snack Dish, made with a savory filling of spiced potatoes. Crispy Samosa is simply awesome and a lovely snack dish, which really melts the mouth of everyone. If you really want to enjoy something very tempting and irresistible, then simply have it and do not thick about calories.
Samosa is a popular Indian street food, that can be seen anywhere in the world, and it's a delightful treat, specially  for a cold day when you are just a little more than nibbly and a little less than hungry. Punjabi Samosa can be easily made at home, you just need to make the proper mixture of boiled potatoes and green peas. The stuffing should be done well in an ice cream cone shaped layer, which is fried in hot oil.
If you want to make delicious and perfect samosa at home, then please follow the cooking instructions given below. The recipe is more convenient for you to make, as all the images and steps are given in detail. Try it in your own kitchen and let us know your comments about it.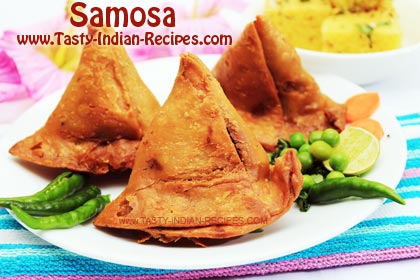 How to make Indian Samosa Recipe:
Samosa Recipe is the traditional Indian Snack Dish made with a savory filling of Spiced Potatoes. It's an Indian Pastry filled with Potatoes and Peas and a very popular Road Side Food Item.
Ingredients
4 medium size potatoes (boiled and peeled)
1 cup green peas (boiled)
1 inch ginger piece
10 cloves garlic
4 green chillies
1/2 teaspoon mustard seeds
4-5 curry leaves
1/2 teaspoon cumin powder
1/2 teaspoon red chilli powder
1/2 tsp turmeric powder
Few coriander leaves, finely chopped
2 cups all purpose flour (maida)
1/2 teaspoon carom seeds (optional)
Water to knead dough
Salt to taste
Oil for deep frying
Instructions
Put ginger, garlic and green chillies in a chopper, or you can use mortar and pestle for pounding them. Chop finely and keep aside.
Boil the green peas and pass through tea sieve.
Peel the boiled potatoes, mash nicely in a big bowl and keep aside.
Heat 2 tablespoon of oil in a pan, add curry leaves and mustard seeds. When the seeds starts to pop up, add finely chopped ginger-garlic mixture and stir on a low flame.
Add mashed potatoes, boiled green peas, salt and spices. Mix with the help of spoon and make a nice mashed potato mixture. So that we should be able to fill it on samosa cone.
Add chopped coriander and mix thoroughly. Leave to cook for 2-3 minutes on a low flame, and then keep aside, till you make the outer layer of samosa.
Let's start making the outer layer (cone) of samosa. Take a big bowl and combine the flour, salt, 2 teaspoon of oil and carom seeds. Mix all the ingredients very well and add water bit by bit to knead the stiff dough. Cover the dough with muslin cloth and leave it to rest at least for 20 minutes.
Divide the dough into small equal size balls. Take one ball or portion and roll in a small round shaped roti.
Make a thin roti, cut it into half like a semi circle. Place 1 tbsp of potato filling in center of roti. Fold from both sides and then from down and upside.
Try to make an ice cream cone. Slightly press the overlapping sides and hold from upper side and slightly press the potato filling towards bottom of the cone. Use little bit of water to seal the upper side of the samosa.
Repeat the same procedure with all other balls.
Heat sufficient oil in a pan and drop 2 samosa's at a time in hot oil.
Fry on a medium high flame for 2-3 minutes, till samosa turns crispy and little browned. Drain on paper napkin.
Notes
Samosa tastes very good, when it is just made. But sometimes, if you are making it in advance and just microwaving it before eating, then too taste will be good.
Tasty Indian Recipes
 Chef Tips:
Enjoy yummy with green chutney and Khajur imli ki chutney.
Fry 2-3 samosa at a time, depends on the size of the pan you are heating.
When the oil is medium hot then only drop samosa to fry, so that it will get cooked well from inside and outside.
Samosa's are greatly served with pav also, just like vada pav.