Pav Bhaji is one of the most popular Mumbai street food and the favorite snack dish of my family. I generally make it at home with  available vegetables. Here vegetables are cooked with tomatoes, flavored with pav bhaji masala and served with buttery pav.
I have lot of memories of having Pav Bhaji at Juhu beach since my childhood in Mumbai. I would use to observe the way the pav bhaji vendor would prepare the bhaji on his huge and giant heavy tava with lots of Amul butter. Personally I also like this butter and use it for my recipes, but any branded or good quality butter can be used for making it.
I know how to make Pav Bhaji and the best way is to boil the vegetables first and then mix it with rest of ingredients. Sometimes I use chopped tomatoes and sometimes tomato puree. It always gives a great taste to our taste buds.
Pav Bhaji is also known as Indian Street Special Food. Let us show you how to make homemade and tasty pav bhaji with healthy vegetables and fresh Indian spices and pav bhaji masala.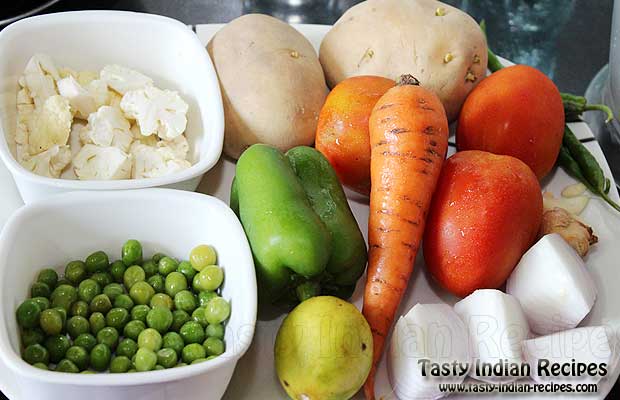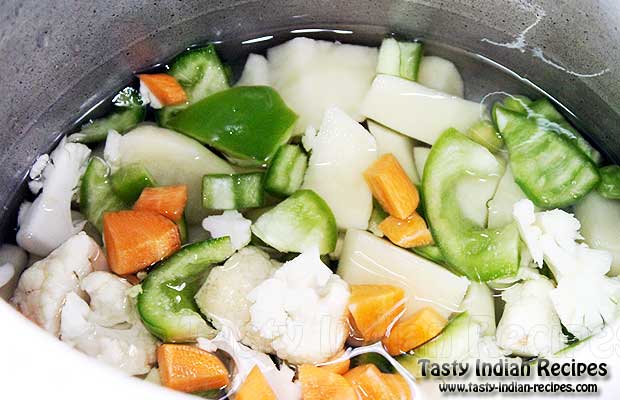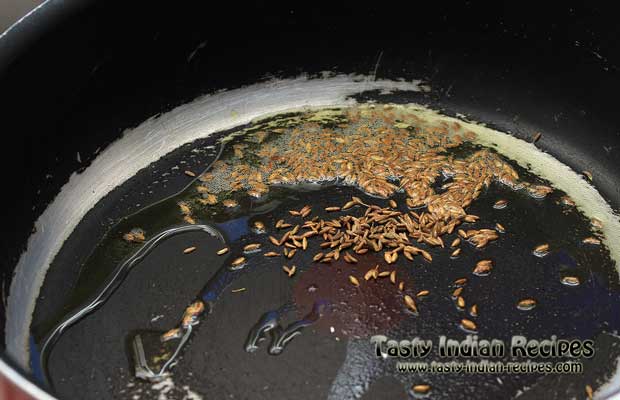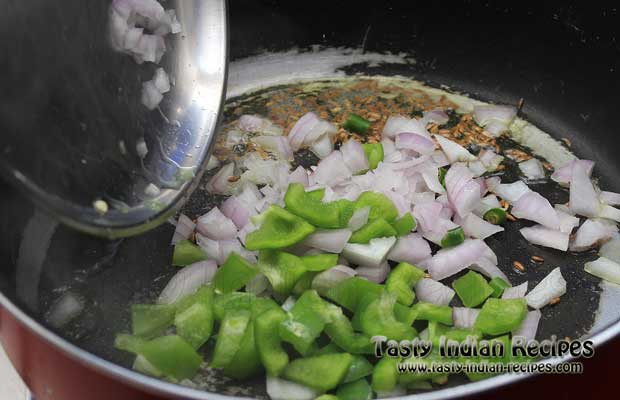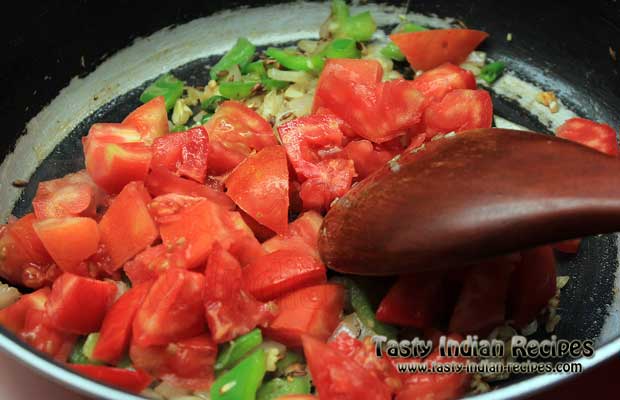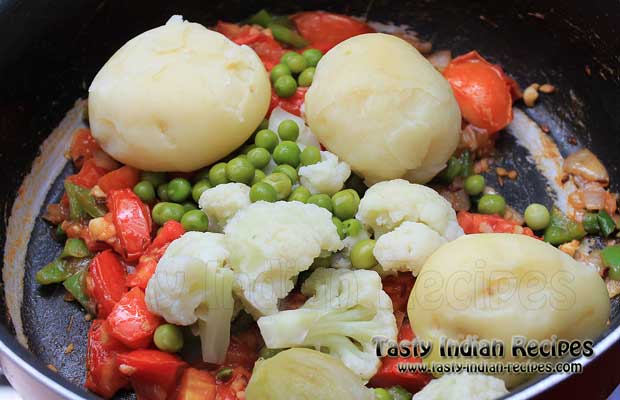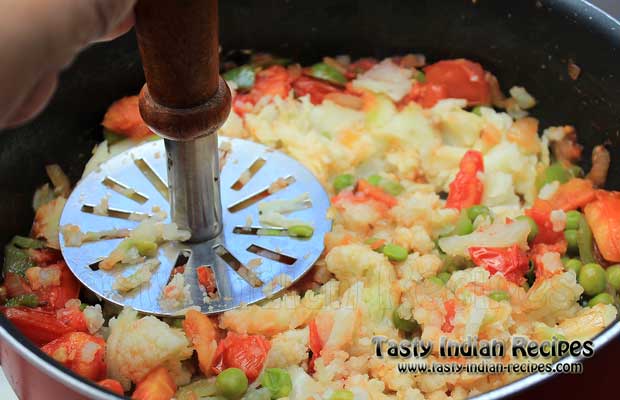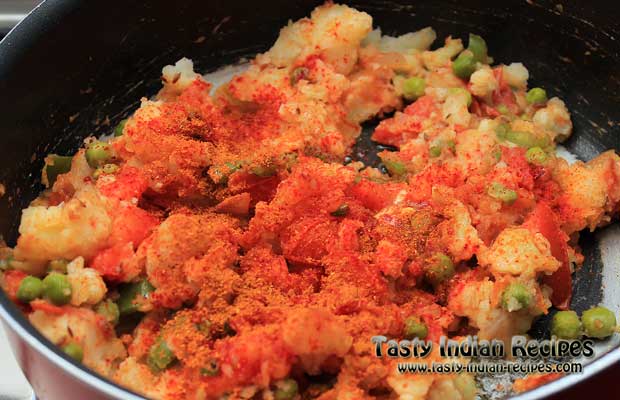 For serving:
4 pav (bakery bread)
2 tablespoon butter
1 big onion chopped very finely
1/2 beet root boiled and chopped finely
4 lemon wedges
Fresh coriander leaves, finely chopped
How to make Mumbai Pav Bhaji:
Pav Bhaji is one of the most famous Mumbai Street Snack dish and can be cooked with lots of Vegetables and flavored with Pav Bhaji Masala.
Ingredients
2 medium potatoes
1 cup green peas (mutter)
1 cup capsicum chopped
1 cup cauliflower florets chopped
2 teaspoon ginger-garlic paste
4-5 green chillies chopped
1/2 teaspoon cumin seeds
1 big onion chopped thinly
5 tomatoes chopped / pureed
1/2 teaspoon red chilli powder
1/2 teaspoon turmeric powder
2 teaspoon pav bhaji masala
2 teaspoon fresh coriander leaves, finely chopped
2 tablespoon oil or butter
Salt to taste
Instructions
Boil the Vegetables and Keep aside.
Heat oil or melt butter in a pan and add cumin seeds. Allow the seeds to splutter and then add chopped onion along with chopped capsicum.
Stir fry for a few seconds and then add Add ginger-garlic paste, green chillies and saute for a minute on low heat.
Now add chopped tomatoes, salt, red chilli powder and turmeric powder. Cook for 3-4 minutes and simmer till the oil separates.
Mix in boiled vegetables and mash them with potato masher. Add about 1/2 cup of water and mix continue to blend all the flavors of vegetables and spices.
Finally add pav bhaji masala and cook for few more minutes.
Garnish with finely chopped coriander leaves and serve with buttery pav and lemon wedges.
Notes
Onion and Capsicum takes less time in cooking. Do not over cook them. You just need to tender it for bringing flavor in Pav Bhaji.
Tasty Indian Recipes
Chef Tips:
While serving, Slice the pav horizontally into 2 parts Heat up a griddle/tava, spread some butter, red chilli powder and pav bhaji masala all over and immediately place the pav over this mixture. Smear the pav with prepared spice mixture. (This is the same way that outside vendors are doing while serving their pav bhaji). Serve bhaji in a serving bowl, put little butter on top and chopped coriander leaves for garnishing,  accompany with the onion salad, a lemon wedge and buttery pav.
You can cook this pav bhaji in pressure cooker, if you are in a hurry.
You can use tomato puree in instead of chopped tomatoes.
Pav Bhai Masala is to be adjusted as per the spices you want to eat, add more masala to make it more spicy and add less masala when serving to your kids.
This is very important that while heating pav on tava, you must place pavs immediately right after spreading the butter, otherwise butter will get burn and ruins the taste of pav.
Further Reading:
If you are looking for more such recipes, then do check Paneer Pav Bhaji and Khada Pav Bhaji.