Khada Pav Bhaji Recipe is Mumbai's famous Pav Bhaji Recipe and the street food which is loved by all. his Pav Bhaji is different from the mashed pav bhaji. It contains the wholesome flavors of healthy vegetables and pav bhaji masala. Khada pav bhaji is one of the best foods of Mumbai, or as a tasty fast food, can be quickly and easily made at home.
This Pav Bhaji Recipe is more than a mere snack and can be considered as a quick meal. Just make it nicely with fresh vegetables and ready to grab on the go. Even you can make it in advance and simply reheat while eating.
It is very important to make the fast food dishes quickly and easily. Khada pav bhaji is a variation of pav bhaji in which the vegetables are simply little mashes and enhanced its flavors.
Although there are lot of options available for eating at Mumbai streets, but this khada pav bhaji is most favorite of mine. So I thought to give a try to it and my missiion is really accomplished, as we all have enjoyed it alot. The difference is of the taste and the texture. In Khada Pav Bhaji, I have used same vegetables, but cooked in different way with few different spices. Trust me, If you have never tried Khada Pav Bhaji at home, then you must give a try to it. A different experience of enjoying wholesome flavors of Mumbai's famous Pav Bhaji Recipe.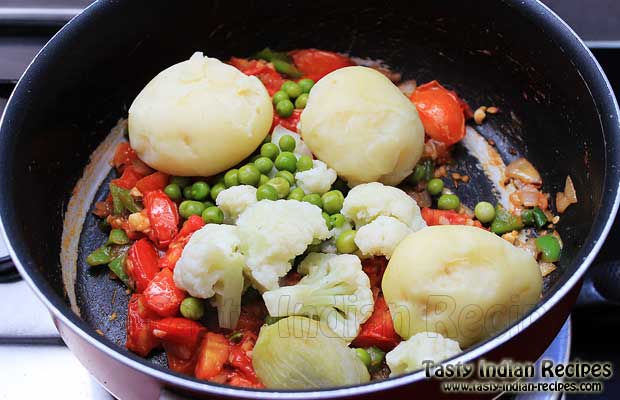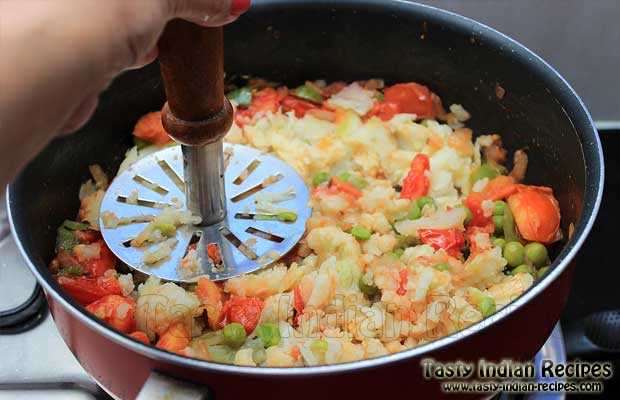 How to make Khada Pav Bhaji Recipe:
Khada Pav Bhaji Recipe is made with wholesome flavors of vegetables and Pav Bhaji Masala. Khada Pav Bahji is one of the most famous street food of Mumbai.
Ingredients
2 big potatoes (peeled and cubed)
1 cup cauliflowers, small florets
1/2 carrot (peeled and chopped)
1/2 cup green peas (fresh or frozen)
1/2 cup french beans, chopped
1 capsicum, chopped
1 big onion, chopped
3 tomatoes, finely chopped
4 green chillies, finely chopped
1 teaspoon ginger, finely chopped
4 pods of garlic, chopped
1/2 teaspoon red chilli powder
1/2 teaspoon turmeric powder
1/4 teaspoon garam masala powder
3/4 teaspoon pav bhaji masala (any branded)
2 tablespoon coriander leaves, finely chopped
2 tablespoon butter or oil
1 lemon (cut into wedges)
Salt to taste
Instructions
Rinse the chopped vegetables (carrot, potatoes, green peas, cauliflower and beans) in running water for few times. Place them in any big open vessel and fill the vessel with water.
Boil the vegetables on medium high flame for 2 minutes, till the veggies are done. Strain the veggies and keep the broth aside.
Melt the butter in a pan and add chopped onion. Fry till the onion turns soft. Add green chillies, ginger and garlic. Saute on low flame for few seconds and then add chopped tomatoes along with chopped capsicum. Saute for 2 minutes stirring in between. Add salt and spices. Mix in boiled vegetables. Now gradually add 1 cup of broth or water. Combine the entire mixture very gently. Make sure, we are not suppose to mash the vegetables completely.
Simmer for 5 minutes on a low flame. Keep checking and gently stir in. Finally add chopped coriander leaves. Serve with Buttery pav and lemon wedges.
Notes
Khada Pav Bhaji is best to serve with Bakery Bread, chopped onion and lemon wedges.
Tasty Indian Recipes
Chef Tip: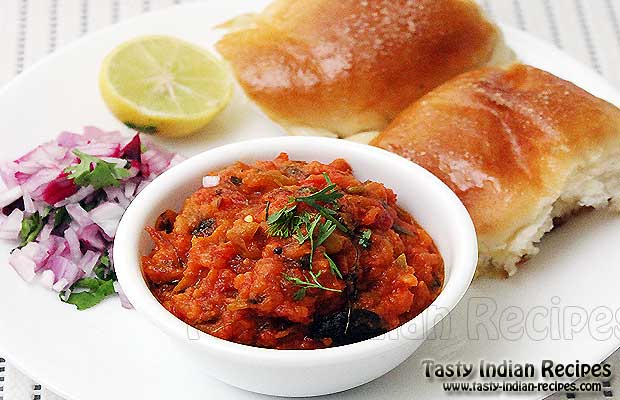 Slice the pavs and fry them on a hot tava or griddle with some butter. You can put some red chilli powder and pav bhaji masala in butter and smear the pav in mixture. Place the khada pav bhaji on a serving plate/ bowl and garnish with some butter and chopped cilantro. Place the warm pav on one side and some chopped onion and lemon wedges on the other side. Enjoy yummy.
Further Reading: