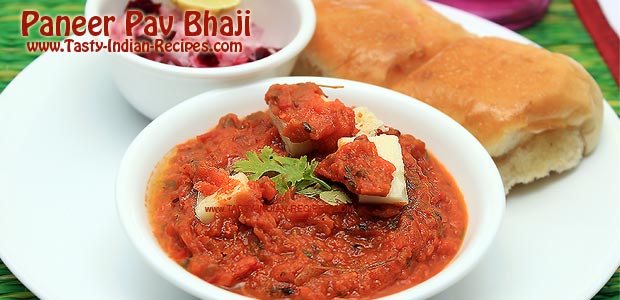 Paneer Pav Bhaji is the delicious blend of paneer and other vegetables cooked in Indian spices and then served with lots of butter on pav, lemon wedges and salad of onion and beetroot. This Pav Bhaji really has tremendous taste because of cottage cheese. Paneer Pav Bhaji is one of the most famous street food of Mumbai. You can see in almost every corner of Mumbai serving paneer pav bhaji either in stalls or in restaurants. Today I'm going to tell you the quick and easy way to make home made paneer pav bhaji.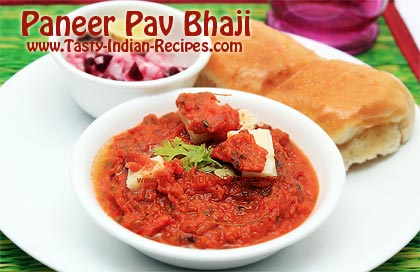 Preparation time: 20 minutes
Cooking time: 30 minutes
Servings: 4-6
Ingredients :
200 gms paneer thin cubes
2 small capsicum thinly chopped
1 big onion thinly chopped
8-10 tomatoes pureed
4 potatoes thinly chopped
1/2 bowl green peas
1 cup cauliflower florets thinly chopped
1 cup fresh salted butter
2 tsp ginger-garlic paste
8-10 small green chillies chopped
1/2 tsp mustard seeds
1/2 tsp cumin seeds
1/2 tsp red chilli powder
2 tsp coriander powder
1/2 tsp garam masala powder
4 tsp pav bhaji masala
1/2 tsp fresh lemon juice
Fresh chopped cilantro
Oil to deep fry
Salt to taste
How to make Paneer Pav Bhaji:
Heat a pan, add sufficient oil, deep fry the thin cubes of paneer and keep aside on absorbent paper.
Now heat the pressure cooker and add 2 tbsp of oil.
As oil heats add mustard and cumin seeds. Leave for crackling.
After sufficient crackles of seeds add onion, saute for few seconds.
Add ginger-garlic along with green chillies. Saute for some more time.
Add tomato puree, salt and red chilli powder. Mix well and cover the cooker with normal lid.
Keep on low flame for about 4 minutes.
After 4 minutes you will see the nice color of puree had come out.
At this moment add all the chopped vegetables.
Mix well and add 2 cups of water.
Cover the pressure cooker with its lid and wait for about 6-8 whistles.
Open the pressure cooker and mash the bhaji with potato or pav bhaji masher.
Again keep on low flame and uncover the cooker.
Keep mashing until it becomes a smooth mixture.
Add water if required and be careful because while mashing the bhaji can spurt up so keep a lid in the time gap.
Now add coriander powder, lemon juice, pav bhaji masala and garam masala powder.
Cover the cooker and leave for 2 more whistles.
Uncover and add fried paneer and fresh cilantro.
Mix well and serve hot in a plate.
Serving steps:
Take a deep shaped plate, pour the bhaji.
Grate little bit of paneer,
Pour a tsp of butter.
Garnish with little bit of cilantro
Accompanied with thinly chopped onion mixed with beet root, also aside the lemon wedges.
Delicious paneer pav bhaji is ready to serve with buttery pav or bread slices.
Chef Tips:
I have repeated the procedure of whistling of pressure cooker twice, its because in this way the pav bhaji masala will not leave its raw flavor. It really works as I have cooked several times. Otherwise adding of pav bhaji masala in the end most probably leave its flavor raw and sour.
No need to boil the vegetables separately, this is the best method to cook quick and tasty paneer pav bhaji.
Follow this serving procedure step by step. Trust me you will get the amazing taste of restaurant style paneer pav bhaji.
Always add lots of tomatoes while making any type of pav bhaji. The tomatoes creates a good color and gives the best taste to the bhaji.
This is my personal experience of using salted butter. Mother Dairy's salted butter is very very tasty. The kids also like to eat roasted buttery pav without bhaji even.