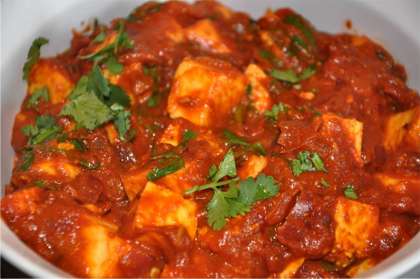 Paneer Tava Masala is a highly famous Indian dish made with fresh Cottage cheese, curd, ginger-garlic paste and flavorful spices. Basically the pieces of paneer are marinated in this mixture and then cooked on hot tawa. The great starter, appetizer or side dish to serve at any time.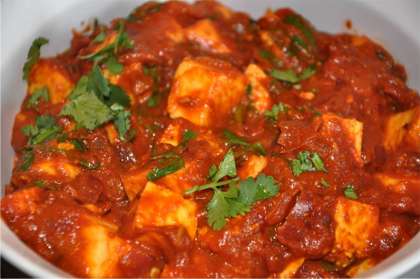 Preparation time: 10 minutes
Cooking time: 30 minutes
Servings: 4 persons
Ingredients:
250 gms paneer cubes
2 tsp ginger garlic paste
4 green chillies paste
1/2 tsp cumin seeds powder
1/2 tsp red chilli powder
1 tbsp curd (thick chunk)
1/2 tsp turmeric powder
A pinch of red-orange food color.
2 tsp coriander powder
1 tsp garam masala powder
1/4 tsp chaat masala
2 tbsp vegetable oil
Salt to taste
How to make Paneer Tava Masala:
Combine the curd, paste, spices, food color, and lemon juice.
Mix well and add the cubes of paneer.
Mix very gently and keep aside for 20 minutes.
Heat the tawa and drizzle some oil.
Place the paneer cubes with its marination.
Fry on very low heat, sprinkle little bit of oil.
Cook until golden brown from all the sides.
Serve either with roti or as it is as as a starter with coriander or mint chutney.
Chef Tips:
For making this dish specially for kids do not add green chillies and apply little bit of butter at the time of serving.
You can add fresh cream in this marination for making it more flavorful.
For making thick curd, you just need to keep the curd in the tea strainer well in advance, so that the water of curd will strained out and it will become a thick chunk.