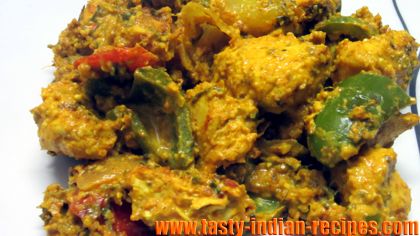 Paneer Taash Kebab is a unique blend of paneer slices, cheese, fresh cream and spices. This is a different kind of kabab recipe, consists a good amount of protein and fibre. An easy snack dish can be made in few minutes on daily basis.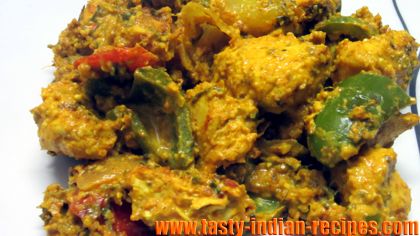 Preparation time: 20 minutes
Cooking time: 15 minutes
Servings: 2
Ingredients:
For the marinade you need:
2 tsp fresh cream
1 cup thick yogurt
2 tsp ginger-garlic paste
1 tsp red chilli powder
1/2 tsp black pepper powder
1/2 tsp cumin powder
1-1/2 tsp coriander powder
1 tsp garam masala powder
Salt to taste
Other ingredients:
4 cheese slices
1/2 big onion sliced
1 tomato sliced
1/2 capsicum sliced
Chaat masala to sprinkle
400 gms cottage cheese
4 tsp mint chutney
4 cheese cubes
2 tbsp unsalted butter
How to make Paneer Taash Kebab :
Make 12 equal size of paneer slices.
Combine all the ingredients well in a big bowl.
Keep the mixture aside for 10-15 minutes until sets.
Spread the spoon of butter and mint chutney on each slice of paneer.
Arrange few slices of onion, tomatoes and capsicum on each 3 slices.
Now cover with the second paneer slice.
Spread the mixture of yogurt on the covered paneer slice and make a thin layer.
Finally put a cheese slice and cover with the third slice of paneer.
Preheat the oven at 250F degrees for 5 minutes.
Bake for 10 minutes until slices slightly turn into golden in color.
Remove out from the oven, cut into desired sizes, grate a cheese cube, sprinkle some chaat masala and serve hot.
Chef Tips:
Serve this kabab immediately with chips and chutney to enjoy the wonderful snack dish.
Keep checking at the time of baking else paneer slices will get burn.
The slices of paneer should be thin enough to make this kabab.
The combination of mint and coriander chutney will go with this kabab.