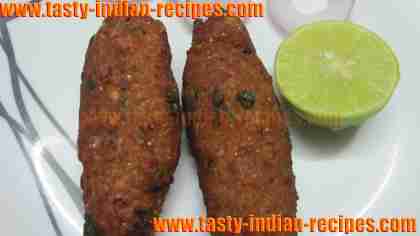 Paneer Seekh Kebab is made from paneer, cornflour and spices. Here paneer balls are arranged in skewers and then cooked in oven. It is a great starter recipe. Paneer Seekh kebab is a very light and delicious snack recipe which can be served with the drinks as well. Learn to make easy and mouth melting paneer seekh kebab and enjoy the world famous Indian appetizer.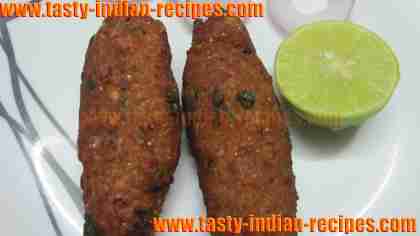 Preparation time: 15 minutes
Cooking time: 15 minutes
Servings: 2-3 persons
Ingredients:
400 gms paneer
2 inch ginger paste
10-12 cloves garlic paste
8 green chillies chopped
2 tbsp onion powder
1 tbsp butter
1 tbsp cornflour
1 tsp all purpose flour (maida)
1/2 tsp pepper powder
1/2 tsp red chilli powder
1/2 lemon juice
2 tsp garam masala powder
1/2 tsp roasted shahi jeera (cumin)
Chaat masala to sprinkle
1 tsp oil
Salt to taste
For Garnishing:
Few onion rings
Few tomato rings
Few capsicum rings
How to make Paneer Seekh Kebab:
Preheat the oven to 350 degrees for 5-7 minutes.
Combine all the ingredients well in a mixing bowl except butter, oil and chaat masala.
Grate the paneer and mix well into the mixture of bowl.
Make a dough and divide into 8-10 equal balls.
Arrange the balls in the skewers.
Spread them by pressing lengthwise of a seekh or skewer with a wet palm and make each kebab about 6-7cm and about 1 cm of distance each.
Grill in the oven for 6-7 minutes.
Spoonful of butter all over and roast for 2 more minutes.
Remove from the skewers and arrange on the serving plate.
Sprinkle some chaat masala and garnish paneer seekh kebab with the rings of onion, tomato and capsicum.
Serve hot with green coriander or mint chutney.
Chef Tips:
If you do not have oven then you can make seekh kebab in the pan as well. You just need to arrange kebab in the tooth pick, cook in the pan and then roast on the griddle. Seekh kebab will be ready in few minutes.
Grate some cheese on top of the seekh kebab and then serve, your kids will definitely love to eat it.
Make a thick dough for the seekh kebab, add more cornflour if require.