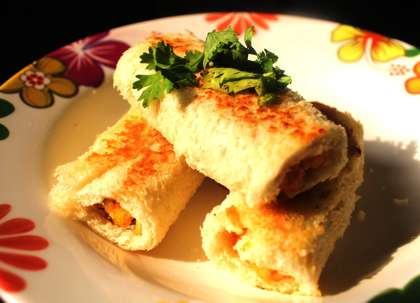 Paneer Rolls is simply a delicious evening snack recipe made with Indian cottage cheese, potatoes and green peas. Mix the spices and vegetables of your choice and make these mouth watering paneer rolls in any occasion or party.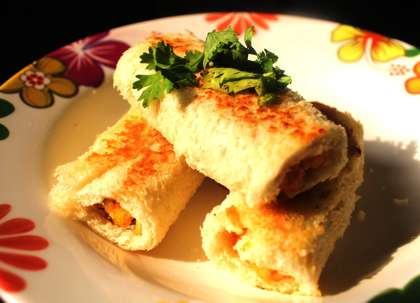 Preparation time: 30 minutes
Cooking time: 30 minutes
Servings: 8 rolls
Ingredients:
250 gms paneer (grated)
8-10 cloves garlic paste
Bread slices 8
cheesy spread (store bought)
2 potatoes boiled
1/2 cup boiled green peas
4 green chillies chopped
1 tsp ginger paste
1 tsp poppy seeds (khus khus)
2 green cardamoms crushed
1 tsp red chilli powder
1 tsp coriander powder
1 tsp garam masala powder
1/2 tsp chaat masala powder
coriander leaves chopped
1 cup water
oil for deep frying
Salt to taste
How to make Paneer Rolls:
Heat a saucepan and add 1 tsp of oil.
Let the oil heat properly and then add green chilles, ginger paste, khas khas and green cardamoms.
Fry for 2 minutes and switch off the gas.
In a bowl mash boiled potatoes and add green peas, grated paneer, salt, red chilli powder, coriander powder, garam masala powder,chaat masala powder, fried masala of a saucepan and chopped coriander leaves.
Mix well and keep this mixture aside.
Take a slice of bread, trim all the edges, dip in the water and take out quickly from the water.
Squeeze out extra moisture from the bread slice.
Spread a1/2 tsp of cheesy spread and garlic paste on bread.
Now spread the mixture of paneer and veggies on half side of bread and cover with the other side.
lock all the sides with the help of water and try to give a round shape.
Deep fry in sufficient oil until turn into a nice brown color and take out on tissue paper.
Serve hot with green chutney or tomato sauce.
Chef Tips:
If you are not able to make the rolls of round shape, then use cornflour or maida and fix them.
In the same paneer rolls you may add grated capsicum and carrot as well.