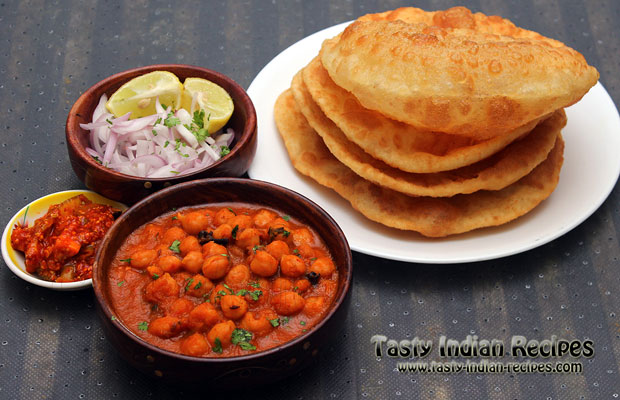 Chole Bhature Recipe is a very famous Punjabi breakfast dish served with Chole (spicy chick peas),  Bhatura, onion, pickle and lassi.  Chole Bhature is a very popular street food in North India and people like it allot due to its spicy flavors.
My mother in law and my husband both like this dish allot and they insisted I should try it at home. While making Chole Bhature Recipe it was very easy for me to make chole but I have never tried making Bhatura before and it was really an adventure for me to cook them properly.  You can read about my Bhatura Recipe here, it took me some time to find out how to make it properly and the main secret was to keep every ingredient balanced and let the dough settle for few hours.
I really like eating spicy food hence I made my chole little spicy. If you don't like spicy food then you may reduce masala's as per your needs. Actually, it took me 3-4 tries to perfect this recipe but finally my husband and my mother in law liked it allot.  I have also promised them that, next time I will make aloo bhatura or paneer bhatura for them.  By the way Bhatura is also know as Bhatoora or Batoora but they all mean Bhatura which is a fluffy deep-fried bread.
In this Chole Bhature Recipe page, I am going to show you how to make chole, click here to know how to make Bhatura. Finally list of all the ingredients and printable recipe is available at the end of the page.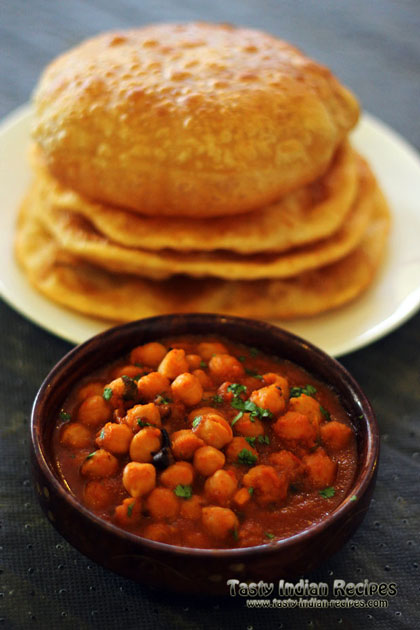 Here are the ingredients required for making Chole.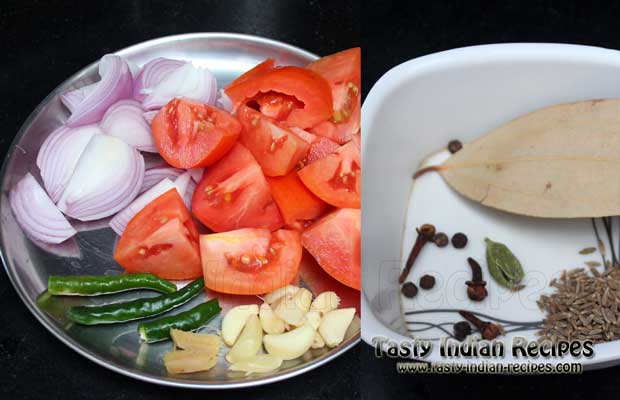 Slice the Onion. Chop the Tomatoes, Green Chilies, Ginger and Garlic and keep aside. Prepare the Whole Garam Masala ingredinets in a separate bowl, such as Bay Leaf, Cardamom, Cloves, Black Peppercorns and cumin Seeds. Also soak the Chole for 5-6 hours in double amount of water.aaa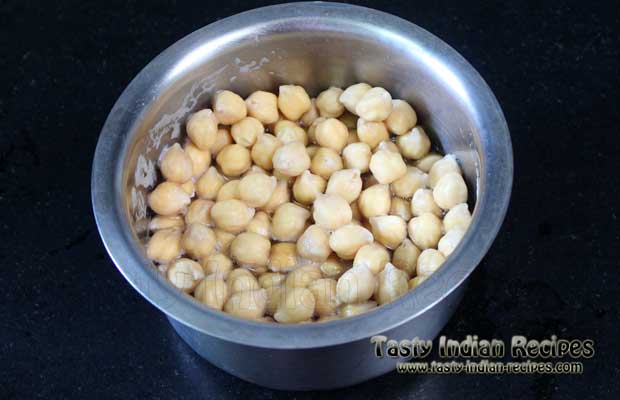 Pressure cook the Chole by adding water and Salt to taste.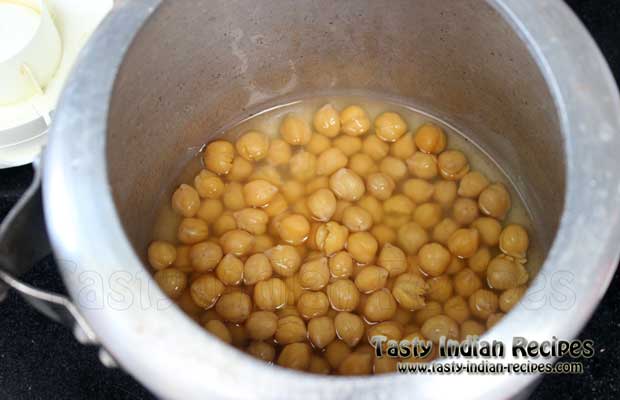 Put the Onion, Tomatoes, Ginger, Garlic and Green Chilies in the grinding jar and grind into a smooth paste or puree.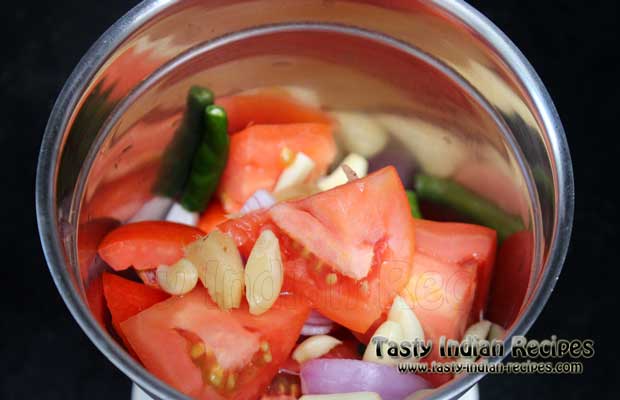 In heating oil add Whole Garam Masala Ingredients and allow them to sizzle for a while.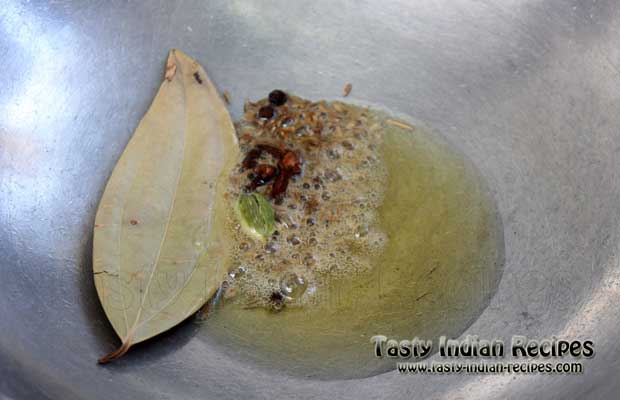 Add prepared puree of Onion, Tomatoes, Ginger, Garlic and Green Chilies.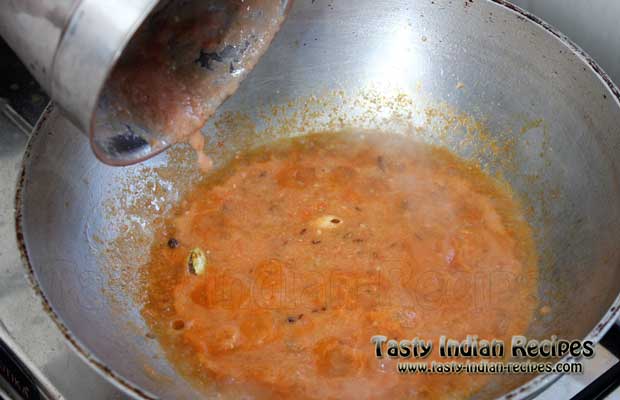 Add Kashmiri Red Chili Powder, Turmeric Powder and Salt to taste and stir well.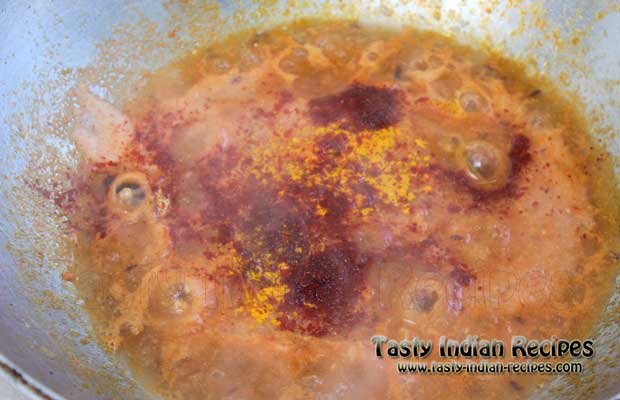 Now add boiled Chole and mix well.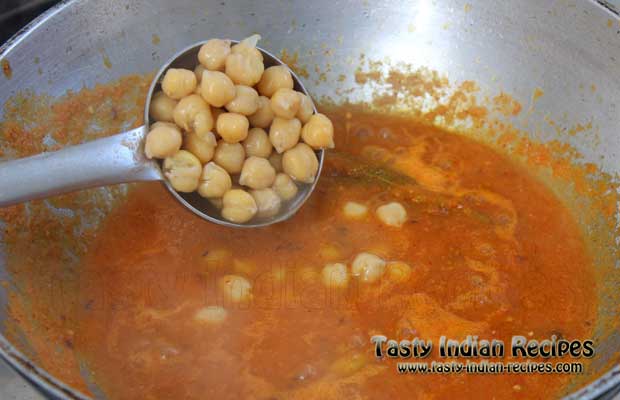 Cook continue on low flame and then mix in Coriander Powder, Garam Masala Powder and Dry Mango Powder.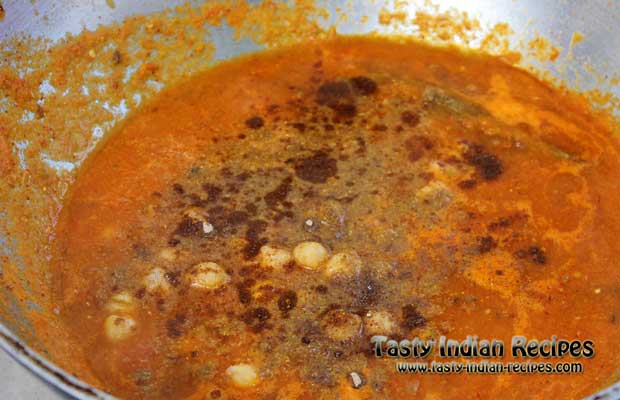 Garnish the Chole with fine chopped Coriander Leaves.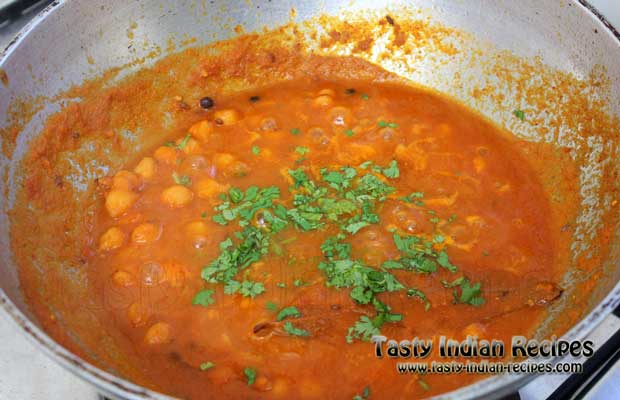 Cook for few minutes on medium flame till the gravy thickens and your Chole are ready for serving.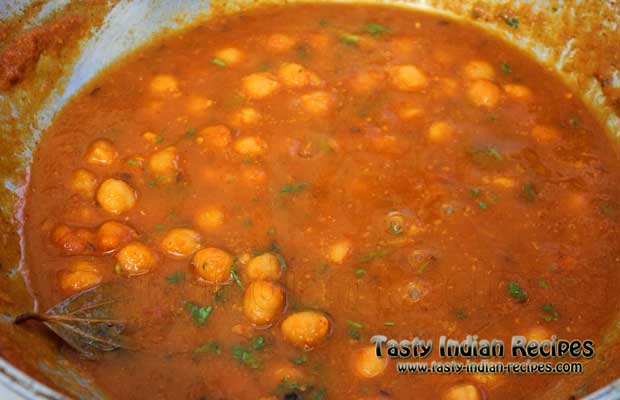 Serve Chole with Hot and Fluffy Bhature, Pickle, Sliced Onion and Lemon Wedges.  You can also serve it with Patiyala Lassi or Masala Chaas.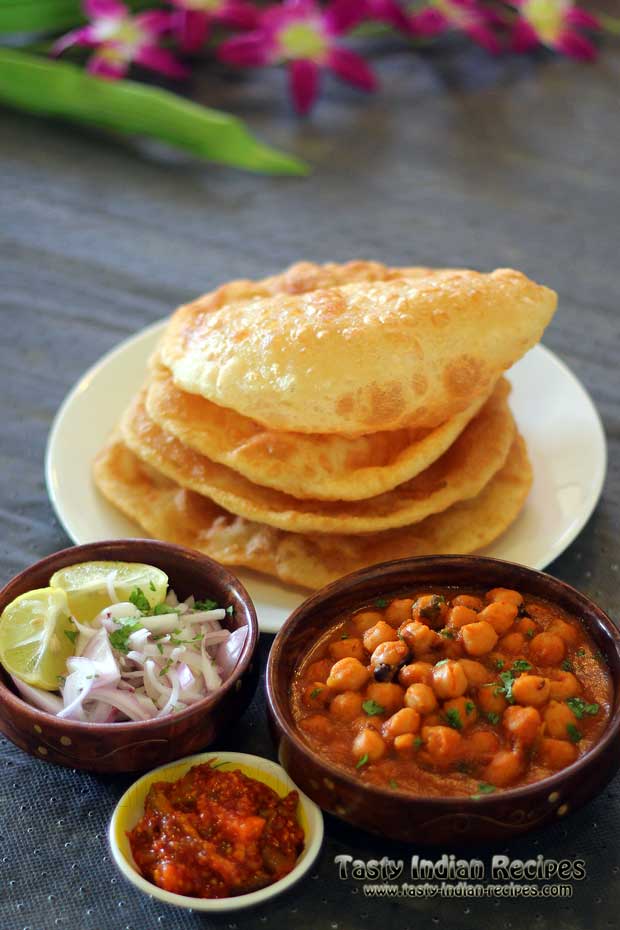 How to make Chole Bhature Recipe:
Chole Bhature Recipe is a very famous Punjabi breakfast dish served with Chole (spicy chick peas), Bhatura, onion, pickle and lassi.
Ingredients
1 cup chole/ chickpeas or garbanzo beans
3 green chilies
1 medium onion
2 tomatoes
6 cloves of garlic (lehsun)
1 inch ginger (adrak)
1/2 teaspoon Kashmiri red chili powder
1/2 teaspoon turmeric powder
1 teaspoon coriander powder
3/4 teaspoon garam masala powder or chole masala
1/2 teaspoon dry mango powder (amchur powder)
1/4 teaspoon asafoetida (hing)
1/2 teaspoon cumin seeds (whole jeera)
1 bay leaf (tej pata)
1 inch cinnamon (dalchini)
3-4 whole black peppercorns
2 green cardamoms (small elaichi)
2-3 cloves (laung / lavang)
Fresh coriander leaves, finely chopped
Salt to taste
Instructions
Soak the chickpea / chole in 3 cups of water either for overnight or for 5-6 hours.
Boil or pressure cook the soaked chole with water and salt. Since the chole were soaked for few hours, hence you need to cook them for 4-5 whistles.
When the chole are done, keep them aside.
Now slice one medium size onion and chop 2 tomatoes, 3 green chilies, 6 cloves of garlic and 1 inch ginger.
Put them in a grinder or blender and grind into a smooth paste / puree. There is no need to add water while making the paste, because the juice of tomatoes will help in making a fine paste.
Heat 1 tablespoon oil in a pan and add whole garam masala (1/2 teaspoon cumin seeds,1 bay leaf, 1 inch cinnamon, 3-4 whole black peppercorns, 2 green cardamoms and 2-3 cloves).
Saute all the spices on low flame for a few seconds till they leave its fragrance. Add about 1/4 teaspoon of asafoetida and stir well.
Now add prepared ground paste of onion and tomatoes and cook continue til the oil begins to separate and the puree becomes nice and mushy.
Add 1/2 teaspoon Kashmiri red chili powder and 1/2 teaspoon turmeric powder and salt to taste.
Stir well for one more minute and then add cooked chole along with its water. Here you need to add about 1/2 cup of water.
Stir in 1 teaspoon of coriander powder, 3/4 teaspoon of garam masala powder and 1/2 teaspoon of dry mango powder.
Cover the pan, simmer the flame and leave to cook for about 10-12 minutes, till the gravy thickens.
Stir occasionally in between and finally garnish the chole with some fine chopped fresh coriander leaves and serve with hot Bhature.
Notes
You can use chole masala instead of garam masala powder, Chole masala is a blend of spices which is readily available at most grocery stores. If Kashmiri red chili powder is not available, then you can use normal red chili powder.
Tasty Indian Recipes