Aloo Vada Snack Recipe is one of the most tempting Indian Snack dish and the most popular street food of Mumbai. Aloo Vada can be easily made at home with Boiled Potatoes and Spices and you can have it with bakery bread slice or pav. It is always evergreen Fast Food, that is loved by several generation of Indians.
Hot and crispy Aloo Vada's are to be relished right off the tava or frying pan, to warm your body and soul even in cold, rainy days! If you do not have all the chutney's with you, then you can skip the Green Chutney and Tamarind Chutney, and instead of that, serve this Snack with Fried Green chilies and Dry Garlic Chutney of Vada Pav. Hot and fresh Aloo Vada can be enjoyed with Evening Tea as well.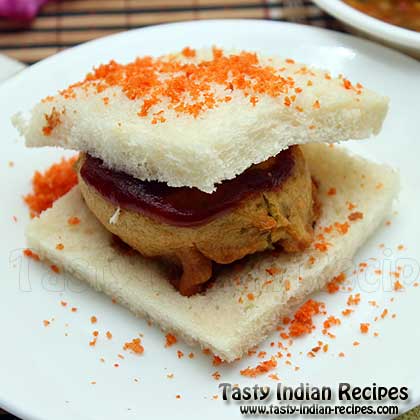 Anyways, nothing can beat this aloo vada and you can not simply stop with one. Someone has correctly said that, it is not required to follow hard and fast rule of dieting every day, specially in this such a lovely rainy season.
Aloo Vada Snack Recipe can be easily and quickly made at home, even if you want to pack it for morning School Tiffin or Breakfast for your Kids, then half of the preparation, such as boiling potatoes, mixing spices and making the mixture of Aloo Vada can be done on previous night, and then you just need to deep fry them in hot oil. These homemade vada's are as good as any other Indian Snack Dish.
It hardly requires anything else than what you already have in your pantry. I am sure, there are not many who might say no for this aloo vada snack. Even if you are planning a party, this will be surely the easiest and the best snack that you can make to please the little ones who come for the party. Let's have a look on, how you can make wonderful Aloo Vada in your own.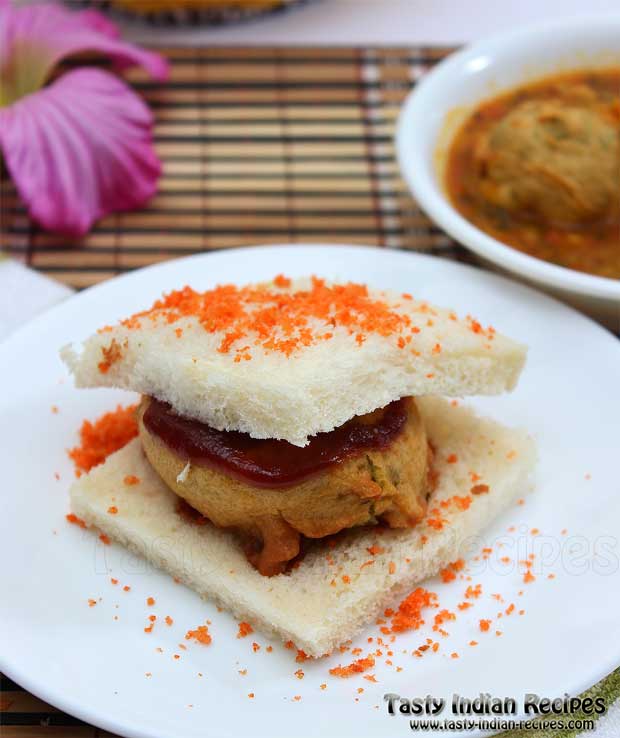 How to make Aloo Vada Snack Recipe:
Aloo Vada Snack Recipe is one of the most Tempting Indian Street Food. Here Vada is made with Boiled Potatoes, dipped in Besan Mixture and deep fried in hot oil.
Ingredients
For making Aloo Vada you will need:

4 medium potatoes (boiled, peeled and mashed)
1-1/2 cups besan (bengal gram flour)
4 green chilies, finely chopped
8 cloves of garlic, fine chopped
1 inch ginger, fine chopped
1 teaspoon mustard seeds
Few curry leaves
1/2 teaspoon baking soda
1/2 teaspoon turmeric powder
2 tablespoon fresh coriander leaves, finely chopped
Salt to taste
Oil for frying

For Serving you will need:

8 bread slices
Dry Garlic Chutney (Vada Pav Chuntey)
3 teaspoon tomato ketchup (optional)
Few fried green chilies
Instructions
Mash the boiled potatoes in a big bowl.
Heat 1 tablespoon of oil in a saucepan and add mustard seeds and curry leaves. Allow the seeds to splutter and then mix in chopped ginger, garlic and green chilies. Saute continue on low flame and add about 1/2 teaspoon of turmeric.
Pour this prepared tempering over boiled potatoes. Now add salt to taste and finely chopped coriander leaves and mix very well with your hands. Make small 4-6 vadas from the mixture and keep aside.
Mix 1-1/2 cups of besan, 1/2 teaspoon baking soda, 1/2 teaspoon red chili powder and little bit of salt in a big bowl and make a batter of medium thick consistency. You can use chopper or hand blender for making a lump free batter.
Heat good amount of oil in a frying pan on medium high flame, take one aloo vada, dip in besan mixture, coat from all the sides and drop in hot oil. Cook the vada on medium flame for first 2 minutes and then simmer the gas. Let the vada cook on simmer for few minutes till turns little crispy and golden brown in color. Flip over and fry from both sides.
Drain on paper towels and make rest of vadas in same way.
Now take bread slices and trim the edges of it. Flatten the aloo vada in your palms and place on one bread slice, spread some tomato ketchup and then cover with another bread slice. Sprinkle or dust some Dry Garlic Chutney over it and serve immediately with fried green chilies.
Notes
Make sure that while frying the vada, oil is not too hot otherwise it will become brown. Make sure, vada should be fried on a medium flame to get cooked very well from inside and outside. Serve this Aloo Vada immediately, or else it turns soggy very fast. You can serve it with Bakery Pav, Indian Chapati or even with Poori as well.
Tasty Indian Recipes