Dry Garlic Chutney is a must have condiment for making Mumbai special vada pav. This is a dry textured chutney recipe, prepared from garlic, toasted pav, and bengal gram flour. Dry Garlic Chutney / Vada Pav Chutney is used in Maharashtra to serve with vada pav and commonly referred as a 'Vada Pav Chutney'.
This is a popular Maharashtrian recipe, made in several different ways, and it can be used as an accompaniment with various Snacks Recipes. Toasted Pav (Indian bakery bread) and crispy fried besan gives a nutty flavor to this chutney.
The ingredients list for this Chutney are very simple and easily available. Indian street food, specially Vada Pav becomes more irresitible because of this chutney recipe. Teeka Chutney for Vada Pav is generally served between laddi pav and smeared with an assortment of fried green chillies.
For making tasty vada pav, dry garlic chutney is must have ingredient. Let's see how to make perfect dry chutney for vada pav, just like the vada pav chutney which is available at road side vendors and make your evening snack dishes more tasty, aromatic and flavorful.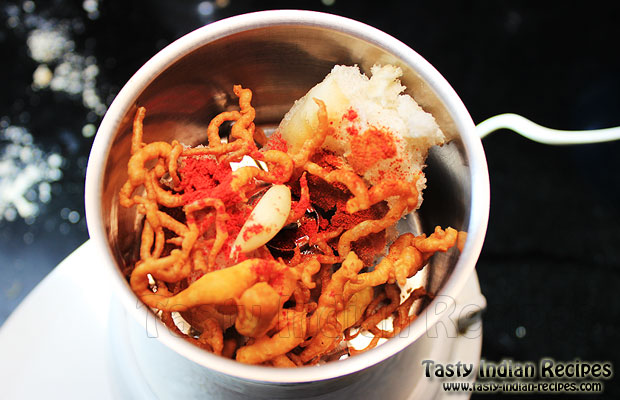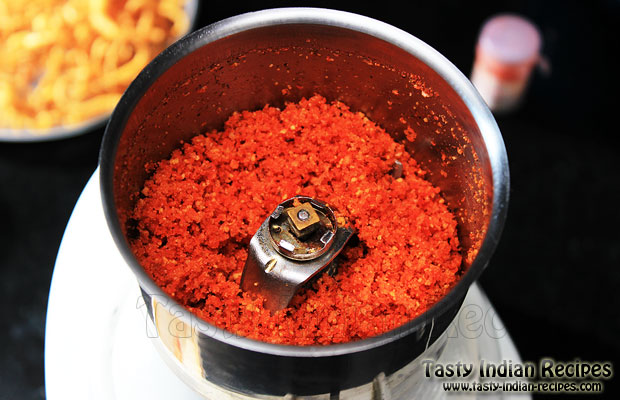 How to make Dry Garlic Chutney Recipe :
Dry Garlic Chutney Recipe
Dry Garlic Chutney Recipe is made with Garlic, Bread / Pav and Besan / Ground Flour. It taste best with Mumbai special Vada Pav and all kind of Pakoras.
Ingredients
2 whole pav (dried or toasted in oven)
1 cup besan
1/4 teaspoon baking soda
2 cloves garlic
1/2 teaspoon red chilli powder
1/8 teaspoon red-orange food color
1/2 cup Water
2 cups oil
Salt to taste
Instructions
Put the besan, baking soda, salt and red chilli powder in a chopper. Gradually add water and make a lump free batter of average consistency.
Heat good amount of oil in a frying pan and with the help of spoon, pour small-small drops of prepared batter. Fry on a medium high flame, till the mixture turns crispy and little browned (just like boondi). Drain on oil absorbent paper and let it sit, until cools down completely.
Toast the pav in oven for about 3-5 minutes. If you do not have oven then toast it on hot tawa. Mix the toasted pav, fried besan mixture and garlic in a chutney jar. Grind for a few seconds and then mix a pinch of food color. Grind again until chutney turns smooth.
Notes
Dry Garlic Chutney is best to serve with Indian Vada Pav. You can even refrigerate it for 2 days.
Tasty Indian Recipes
Chef Tip:
This chutney is best to serve with Indian vada pav.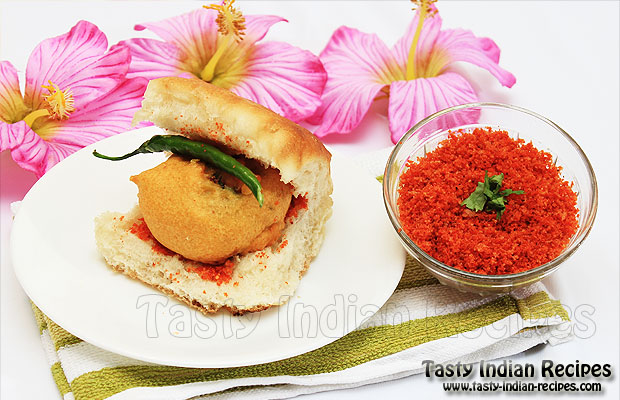 Further Reading: