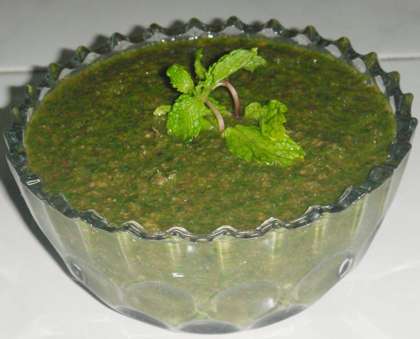 Mint (Pudina) Chutney is the most famous Indian Chutney Recipe. The beautiful fragrance of fresh mint leaves, tamarind and green chillies makes an awesome chutney dish.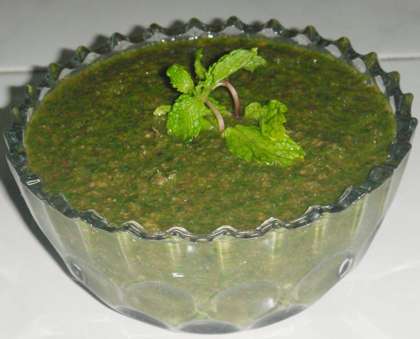 Preparation time: 5 minutes
Cooking time: 2-3 minutes
Servings: 6-8
Ingredients:
4 cups fresh mint leaves (coarsely chopped)
3 green chillies
2 tbsp tamarind pulp
Salt to taste
Water
How to make Mint (Pudina) Chutney :
Soak the tamarind in 1 cup of water for 10-15 minutes.
Also wash the mint leaves in tap water and keep aside.
Strain the tamarind mixture and squeeze out the whole juice from tamarind.
Add little bit of water and grind with other ingredients into a smooth paste.
Adjust the chutney with some salt and add some water to make a thick chutney consistency.
Enjoy this delicious mint chutney with Indian snack dishes.