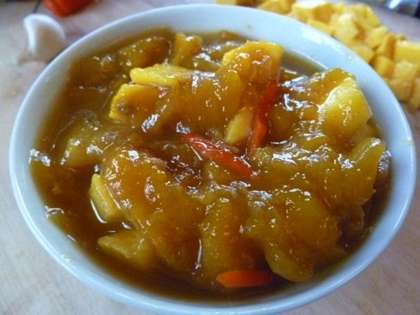 Here is a collection of fresh green mangoes, dried spices, vinegar and sugar for making a smooth and flavorful Mango Chutney recipe. Learn how to make quick, easy and tasty homemade Mango Chutney in easy steps and do the best use of summer mangoes.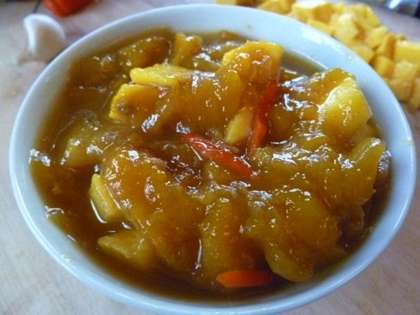 Preparation time: 5 minutes
Cooking time: 20 minutes
Servings: 8-10
Ingredients:
1 kg fresh green mangoes (aam)
4-5 cloves garlic
1 inch ginger piece
1 cup sugar
1 tsp green cardamoms crushed
1/2 cup vinegar
3/4 tsp red chilli powder
Salt to taste
1/2 cup Water
1/2 cup Raisins (Kishmish)
2 tbsp blanched almonds
How to make Mango Chutney:
Wash the mangoes and pat dry with clean kitchen napkin.
Peel the mangoes, remove out the stone and cut them into fine slices.
Heat a non-stick pan and add slices of mango, ginger, garlic and water.
Stir on low flame by mixing the salt as per taste.
When the mangoes are tendered, add remaining ingredients except the raisins and almonds.
Cook on medium flame by stirring constantly until turns thick and golden in color.
Remove the chutney from the flame, stir in the raisins and blanched almonds.
Cool and then store in air tight jar /bottle or container.
Serve it either with hot paratha's in breakfast or with your meals to make them more delicious.
You can store this chutney for few months at room temperature.