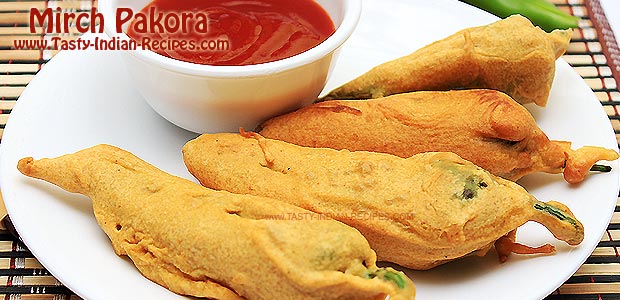 Mirch Pakora are the perfect green chile fritters to serve with hot cup of Tea or Coffee. This Mirch Pakkora are most enjoyable by people, who likes the heat of green chillies. Green Chilly Pakora Recipe / Hari Mirch Pakora or Stuffed Mirch Pakora is one and same thing.
It's a quick, simple and easy pakoda recipe and you can get them in most of the Indian sweet shops. If you will purchase mix pakoras, you will also get mirch pakoras in it. I have made plain Mirch Pakoda, But if you want, you can stuff the green chillies with stuffing of your choice, such as potatoes or paneer.
In Maharashtra and Goa, pakoras are known as bhajiyas/bhajji/bajji. Green chillies which are used for making this pakoda are bigger in size, and they are not spicy as their smaller counterparts. One can use small green chillies also, but they would turn out to be too hot and spicy. These green chillies have a light green color and are known as bhaji/bhajji/bhajiya chillies. You can easily get these chillies in Vegetable selling vendors.
My Mother-In-Law really loves this pakode and she has her own style of making it. So one day, I just followed her style and impressed here by presenting the same style Mirch Pakoda. She was surprised and enjoyed my pakode a lot. I must say that I have learned making perfect mirch pakora from her only. Thanks Mom.
Today My Friends are going to come at evening tea and they love spicy food, hence I would surprise them with this winter special Pakode. I generally enjoy this with hot cup of tea in rainy days. Mirch Pakoras is one of the easiest side dish recipe and can be served with variety of dals, curd curry or even with any vegetable curry. Here is the recipe of Green Chilli Pakora.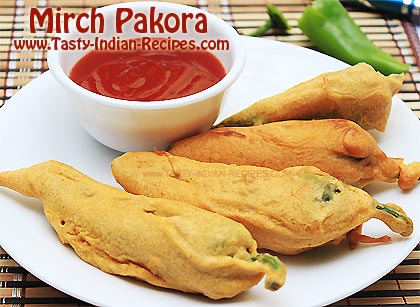 Ingredients required for making Mirch Pakora Recipe:
8 green chillies / Mirch
Some salt to sprinkle
Chaat masala to sprinkle
Oil for frying
For besan (chickpea) flour batter you will require:
2 cups besan (Bengal gram flour)
A pinch of asafoetida
1/2 tsp red chilli powder
1/2 tsp turmeric powder
Salt to taste
Water for making batter
How to make Mirch Pakora Recipe:
Mirch Pakora Recipe are Green Chilly Fritters, made with Special Bhajiya Chillies. Here Big Green chillies are stuffed with the batter of Besan and Spices.
Ingredients
8 green chillies / Mirch
2 cups besan (Bengal gram flour)
1/2 teaspoon red chilli powder
1/2 teaspoon turmeric powder
1/8 teaspoon asafoetida
1/4 teaspoon Chaat masala
Salt to taste
Oil for frying
Instructions
Rinse green chillies thoroughly in water, soak and place them in a bowl. Sprinkle some salt and chaat masala and keep aside.
Mix the ingredients of making batter. Gradually add water to form a thick batter. (note: Rice flour can be added for making pakoras more crispy). Give 2-3 vertical slits on the green chillies. Take care not to break them. Dip them in prepared batter and evenly coat the mirch (chillies) with batter, also apply some batter inside the slits, as shown in following image.
Heat good amount of oil in a frying pan and deep fry the pakode in oil till they turn golden brown and crisp.
Serve Mirch Pakora with pav (bakery bread) or bread slices.
You can even serve them as a side dish with delicious Indian Meal.
Notes
Cook Pakora's on medium heat. Cooking them at high heat will over cook Pakora's and may burn the batter. Server Pakora's with green Coriander Chutney.
Tasty Indian Recipes
Further Reading:
You may also like to read Besan Ke Pakode and Urad Dal Ke Pakode.