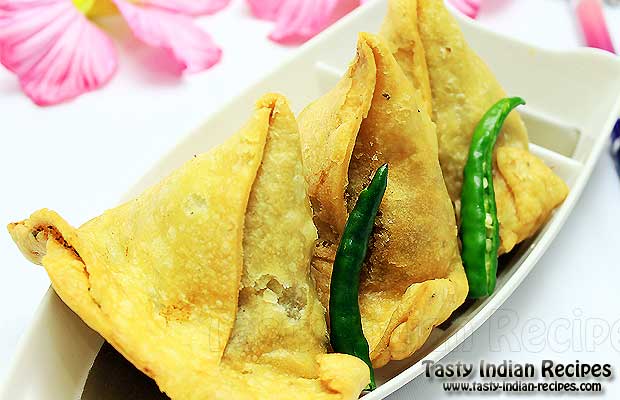 Baked Samosa is the famous Indian snack dish, filled with the savory filling of potatoes and green peas. Every culture has their own version of samosas, such as fried, baked or even steamed. I have already posted fried samosa, which is simply amazing with the crispy outer layer. But if you are thinking about calories, then this baked samosa can be considered.
Baked samosa is a healthier alternative to the fried versions of samosas, that can be seen in most of Indian takeaway restaurants. But this spicy vegetarian version is hardly available outside. So why not to try this stunning starter or evening tea time snack dish at home.
Baked Samosa is stuffed with similar filling, but here potato filling is cooked in different way with different spices. The outer layer of baked samosa is little more thick to retain the shape and hold the stuffing. Baked Samosas with Mint Chutney is extremely awesome as an evening snack dish. Let's see how to make this Indian Samosa at home, that can be a good option for calorie conscious people.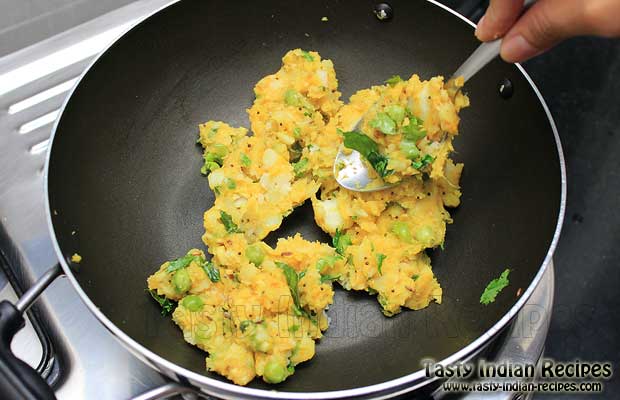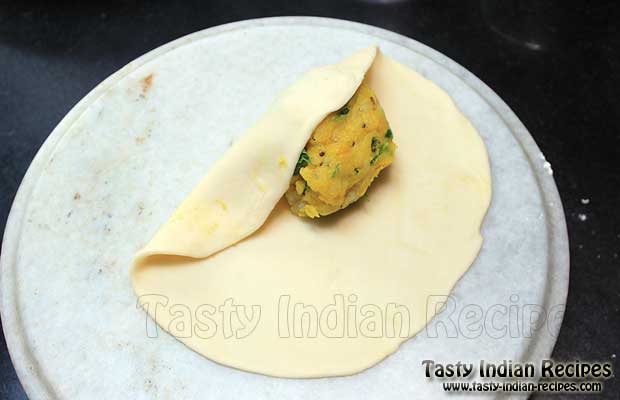 How to make Baked Samosa Recipe:
To make Baked Samosa Recipe, Maida Roti is stuffed with potato mixture and then baked in oven. Baked Samosa is a low calorie snack, good for health conscious people.
Ingredients
(Outer layer of Baked Samosa)
2 cups Whole wheat flour (atta)
1/2 cup all-purpose flour (maida)
1/10 teaspoon ajwain (Carom seeds)
2 tablespoon oil
Salt to taste
(For Potato Stuffing)
4 medium potatoes (cut into small cubes)
1 tsp ginger paste
1 teaspoon garlic paste
4 green chillies, finely chopped
1/2 teaspoon mustard seeds
1/2 teaspoon cumin seeds
1/2 teaspoon red chilli powder
1/2 teaspoon turmeric powder
1/2 teaspoon dry mango powder
3/4 teaspoon garam masala powder
2 tablespoon fresh coriander leaves, finely chopped
1 teaspoon oil
Salt to taste
Instructions
Combine all the ingredients of making the outer layer (covering of samosa). Gradually add water and knead into a soft and smooth dough. Cover the dough with damp cloth and leave to rest for about 15 minutes.
Heat a non-stick pan and add cumin and mustard seeds. Allow the seeds to sizzle and splutter.
Add ginger-garlic paste along with fine chopped green chillies. Stir and mix potatoes.
Add salt to taste and stir in remaining spices. Sprinkle little bit of water, cover and leave to cook until potatoes tender, it will take about 10 minutes. Add the blanched green peas and cook for 5 more minutes on a low flame. Finally mix chopped coriander and keep the mixture aside to cool down.
Preheat the oven at 250 degrees F. Divide the dough into golf-ball sized pieces and spread some flour on the surface in which you are going to roll out the samosa. Roll them out into a thin circles of about 7.5cm/5 inch diameter and about 3mm thick. Cut each circle in half and dampen the edges with water. Shape into an ice cream cone and stuff with the potato filling. Repeat the process until all the balls has been used up. Seal the edges well and arrange the samosas on a baking tray.
Bake in preheated oven for 20 minutes, turning them once halfway through cooking until lightly browned.
Notes
You can serve these baked samosa piping hot with coriander chutney or mint chutney.
Tasty Indian Recipes
Chef Tips: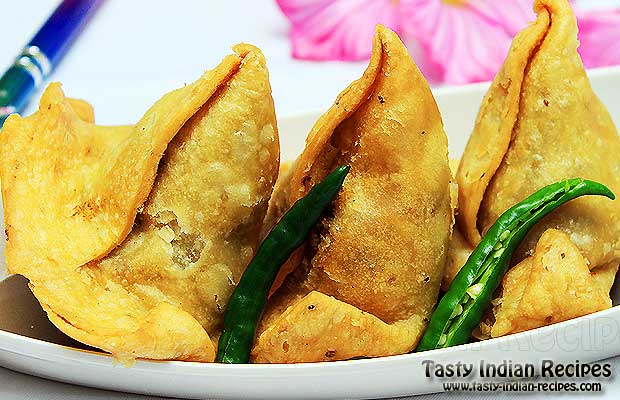 For making a perfect Samosa Cone please refer my Samosa Recipe.
You can chop ginger and garlic finely instead of making paste out of it.
Adjust the spices as per your taste.
Further Reading: