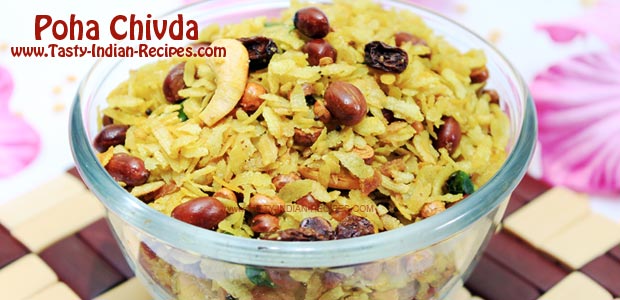 Poha Chivda or Aval Mixture is a delicious Indian snack dish made with Poha (rice flakes) and dry fruits and tempered with cumin and chillies. For making it in a perfect style, you really need to fry everything. Because the frying make everything crispy, crunchy and very tasty. So please forgive if you are looking for a low calorie chiwda.
Poha chivda or chiwda recipe is made my many Indian families during Diwali. Basically this namkeen or farsan is a savory sweet dish or sometimes little spicy, if you are adding few more fried green chillies. My hubby likes this chivda a lot but only when I'm adding more fried green chillies, as he likes it little spicy. So I generally make this chivda only for him by putting lots of fried green chillies in it, and I avoid adding sugar too. You can pack it up for your kid's school tiffin too.
There are many variations of making chivda and you can use thick or medium poha or aval (flattened rice), dry fruits and spices as per your choice. This Aval Mixture Recipe is a maharashtrian version, which I have learned from one of my Maharashtrian friend. Some people like to add coconut slices in this fried mixture, but I have skipped adding it and instead coconut I have added fried raisins and cashew nuts.
Making this Poha Chivda at home is little lengthy and cooking process requires a bit of planning, so keep all the ingredients ready well in advance. Also line two to three plates or bowls with paper towels. Keep the sieve dry and so the ingredients too. Dry fruits which you are using for making this mixture must be kept at room temperature well in advance and you will be frying everything one after the other very quickly, so the preparation will be easy and efficient, if everything is just ready to add. Lets start step by step preparation of poha chivda or chiwda recipe.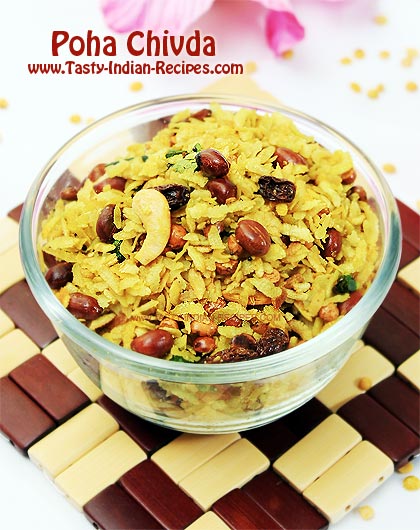 For tempering the Poha Chivda you will require:
2 tsp cooking oil
1/2 tsp cumin seeds
1 tsp mustard seeds
1/2 tsp sesame seeds
Few curry leaves
6 medium green chillies, chopped
How to make Poha Chivda Recipe / Aval Mixture Recipe:
Poha Chivda Recipe / Aval Mixture Recipe
Poha Chivda or Aval Mixture is a delicious Indian snack dish made with Poha (Rice Flakes) and Dry Fruits and tempered with Cumin Seeds and Chilies.
Ingredients
2 cups or 1 big bowl white poha/aval/flattened rice
1/2 cup peanuts
1/2 cup roasted chana dal
2 tbsp cashew nuts, sliced
1 tbsp golden raisins
3/4 tsp turmeric powder
Salt to taste
Oil for frying
Instructions
Keep all the ingredients ready very well in advance. Heat 4 tbsp of oil in a deep vessel. Add peanuts and stir fry on medium high flame.
Fry peanuts, chana dal, cashew nuts and raisins one after another with continuous stirring, till all are well fried and little browned.
Now in same hot oil, add poha and fry till they expand and become crisp. Keep stirring to make the poha crunchy and crispy, but don't brown them.
Keep the fried ingredients ready aside. Mix the fried peanuts, chana dal, cashew nuts and raisins in fried poha and keep the flame low. On the other side, heat 2 tsp oil in a saucepan, add cumin, mustard and sesame seeds. Allow the seeds to splutter and then add curry leaves and green chillies. Stir well and fry for a few seconds and then mix into fried poha. Now add salt to taste along with turmeric powder.
Roast for 2-3 minutes on a low flame. Check the taste and then add more salt if required.
Let the chivda mixture cool and then store in an air-tight container.
Serve the poha chivda as a tea time snack.
Notes
f you want, you can add coconut slices, little sugar and red chilli powder in this chivda. This poha chivda can be stored for 6-7 days in an air tight container, make sure to use dry spatula (spoon) while taking it out from the jar.
Tasty Indian Recipes
Further Reading:
You may also like Batata Poha, Poha Idli and Baked Poha.