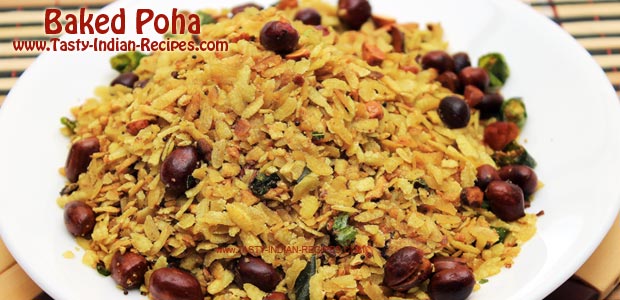 Baked Poha is extremely healthy breakfast recipe prepared with rice flakes, onion, carrot and tempered with mustard seeds. This is one of the best option even if you have to welcome unexpected guests in your house.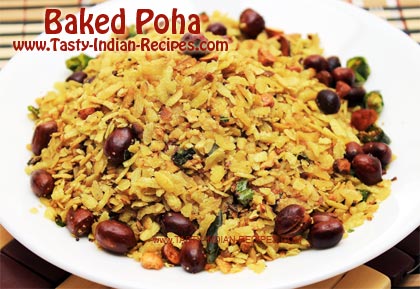 Preparation time: 8 minutes
Cooking time: 15 minutes
Servings: 6
Ingredients:
2 cups rice flakes (poha)
2 green chillies thinly chopped
2 tbsp yogurt (curd)
1 onion thinly chopped
2 tbsp fresh coriander leaves chopped
1/2 tsp red chilli powder
1/2 tsp turmeric powder
1/2 cup carrot shredded
Handful peanuts (roasted)
1 tbsp lemon juice
1/4 tsp butter
Salt to taste
How to make Baked Poha:
Wash the poha 3-4 times in normal running water.
Drain and keep aside.
Combine poha, onion, salt, red chilli powder, curd, lemon juice, turmeric powder, carrot, coriander leaves, green chillies and peanuts.
Mix very well and keep aside for 10 minutes.
Grease a baking tray or bowl with little bit of butter and pour poha mixture, spread evenly.
Bake in the oven for about 15 minutes at 350F degrees.
Your baked poha is ready to serve.
Chef Tips:
Poha are extremely good complex of providing carbohydrates in the body. Hence you can eat them on daily basis.
This tea time snack is the best option/alternative of low fat dish, it is neither too greasy nor too fried.