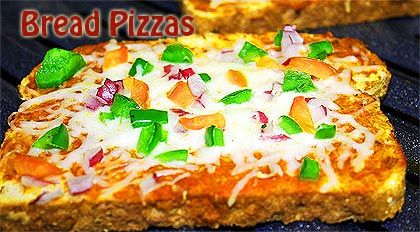 Bread Pizzas is the unique preparation of spicy pizza topping on toasted buttery bread slices. The layer of pizza sauce, spicy mixture and shredded cheese turns into healthy and delicious bread pizzas.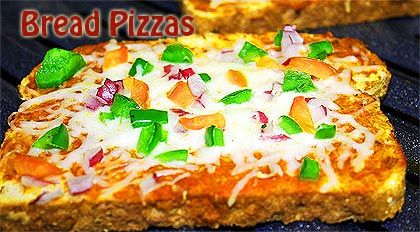 Preparation Time: 5 minutes
Cooking Time: 15 minutes
Servings: 4
Ingredients:
10 bread slices (white or brown)
2 cups Go shredded cheese
4 tbsp pizza sauce
3 tbsp butter
4 tbsp tomato sauce/ketchup
1 onion sliced
1 tomato sliced (remove pulp)
2 tsp ginger-garlic paste
4 green chillies thinly chopped
2-3 black pepper corns
A pinch of sugar
2 tbsp mixed herbs
2 tbsp olives
2 tbsp jalapeno
Salt to taste
How to make Bread Pizzas:
Apply little bit of butter on all bread slices and toast them in the oven for 2 minutes until turns into nice golden brown in color.
Make sure toasted bread slices must be crispy. Keep them aside.
Lets proceed for the topping.
Melt 1 tbsp of butter in a non-stick pan and add green chillies and ginger-garlic paste.
Saute for few seconds and add sliced onion and tomatoes.
Stir with the salt and tomato sauce.
Add olives and jalapeno, mix very well and toss with sugar, pepper corns and mixed herbs.
Reduce the heat for first 5 minutes and cover the pan with tight lid.
Uncover and cook only for 2-3 more minutes on medium high heat.
Switch off the gas and keep the mixture aside.
Arrange the toasted buttery bread slices on the chopping board.
Spread little bit of pizza sauce on all bread slices.
Spread the equal amount of mixture over the pizza sauce and then finally sprinkle shredded cheese.
Preheat the oven at 350F degrees and grill the bread pizzas for first 2 minutes and then bake them for next 3-1/2 minutes until cheese starts melting.
Serve immediately.
Chef Tips:
You can make square or round shaped bread pizzas of your choice.
Serve them immediately to enjoy the yummy breakfast recipe.
I have used white bread slices whereas brown bread is also fine to make bread pizzas.