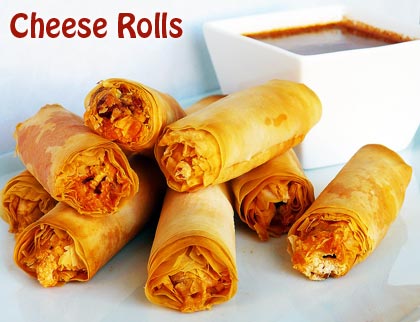 Yummy Cheese Rolls is an ideal snack dish made with Indian cheese and mixed herbs. This is one of the most favorite  dish of the kids and goes easily in their school tiffin.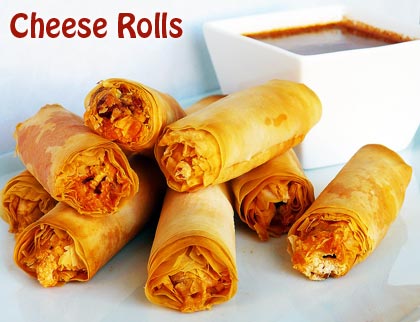 Preparation time: 10 minutes
Cooking time: 20 minutes
Servings: 8 Cheese Rolls
Ingredients:
8 bread slices
4 tsp butter
1 cup processed cheese
1 tbsp red chilli flakes
1 tbsp mixed oregano
1 tsp cornstarch
A pinch of salt
How to make Cheese Rolls:
Combine the cheese, salt, red chilli flakes and mixed oregano in a bowl.
Mix very well and make a soft mixture.
Slightly cut the edges of the bread slices and apply butter on it.
Put the prepared mixture on half side of the buttery bread and cover with the other side.
Make a tight roll by applying little amount of cornstarch.
Bake in preheated oven for about 20 minutes.
Serve immediately with the tomato sauce.
Chef Tips:
You can either deep fry these yummy cheese rolls in the pan or shallow fry on hot griddle.
This is one of the best Indian snack dish that rocks in the morning as well as in the evening..