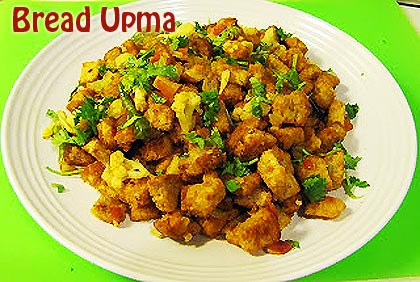 Bread Upma is highly textured breakfast recipe made with white bread slices, cumin seeds, onion and tomatoes. Today I'm going to tell you how to make quick bread upma with simple microwave procedure and by using easy ingredients.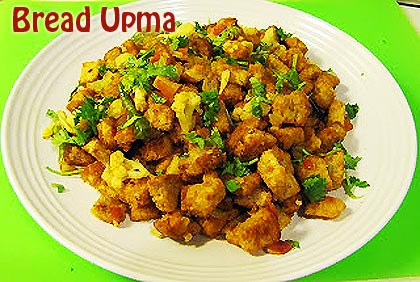 Preparation Time: 5 minutes
Cooking Time: 8 minutes
Servings: 4
Ingredients:
1 packet of white bread slices
Few curry leaves
1 tbsp mustard seeds
A pinch of asafoetida
1/2 tsp cumin seeds
1 onion thinly chopped
2 tomatoes thinly chopped
4 green chillies thinly chopped
1 tbsp garlic paste
1/2 tsp red chilli powder
1/2 tbsp turmeric powder
1/2 tbsp garam masala powder
1 tbsp fresh lemon juice
1/2 tsp jaggery (gur)
Fresh coriander leaves chopped
1 tbsp olive oil
Salt to taste
How to make Bread Upma:
Heat the oil in a microwave proof bowl for 20 seconds.
Add mustard seeds, cumin seeds and curry leaves. Microwave for about a minute.
Add thinly chopped onion, green chillies, garlic and salt. Mix well and microwave for 2 minutes on high.
Add tomatoes, asafoetida, jaggery and the remaining spices.
Mix well and microwave on high for 2 more minutes. Stir once in between.
Dip all the bread slices in normal water, squeeze out whole water and immediately crumble them.
Mix in the tomato mixture and stir with the lemon juice.
Microwave on high for 3 minutes and finally garnish with chopped coriander.
Microwave just for the final minute and serve piping hot.
Chef Tips:
This recipe can be made in the pan with the same ingredients.
I have made low-calorie bread upma recipe, which is full of protein and iron. Hence can be enjoyed on daily basis.
If olive oil is not available then any normal cooking oil can be used.