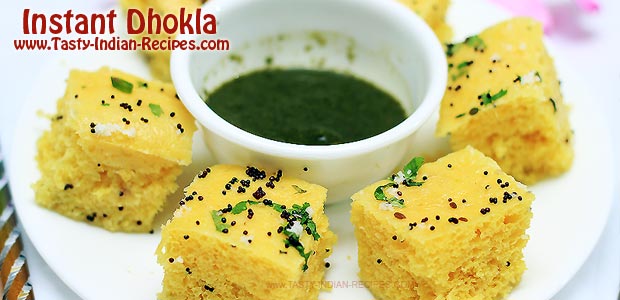 Instant Dhokla is the special Indian breakfast recipe made with semolina, besan and eno powder. The tempering of mustard seeds and curry leaves makes them more delicious at the time of serving. Learn how to make Quick Dhokla Recipe.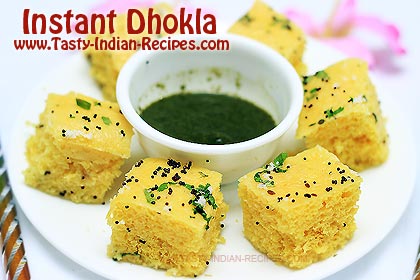 Prep time: 5
Cook time: 20
Total time:
Yield: 6 servings
Ingredients:
2 cups semolina (suji)
1 cup curd
1/2 cup bengal gram flour (besan)
1 packet eno fruit salt
4 green chillies
1 inch ginger
1 tbsp mustard seeds
4-5 curry leaves
1/2 tsp salt
1-1/2 tbsp oil
1/2 tsp sugar sugar
1 tbsp fresh cilantro chopped
200 ml water
How to make Instant Dhokla:
Combine the semolina, besan, salt and sugar.
Gradually add water with continuous mixing.
Add curd and mix very well.
Crush ginger and green chillies with help of mortar and pestle and add into the batter.
Settle down the prepared batter for 15 minutes.
Mix Eno fruit salt in the batter just before keeping on flame for cooking.
Fill a big vessel with good amount of water.
Keep on high heat until boils.
Grease a round shaped plate with oil.
pour the dhokla batter and place the plate over the heating vessel on the gas.
Leave to cook on medium high heat at least for 20 minutes.
Check in between and again fill the vessel with water if required.
When the dhokla seems ready, turn the gas off and allow them to cool down.
Flip the dhokla on a serving plate.
With the help of knife, cut the dhokla in desired pieces.
Heat a tsp of oil in a sauce pan, add curry leaves, green chillies and mustard seeds.
Allow the seeds to splutter and pour this tempering over the dhokla.
Finally garnish with chopped cilantro and serve with green chutney and sweet chutney.
Chef Tips:
Instant dhokla recipe can be made in the pressure cooker or in the steamer as well.
You can store these dhokla for 2-3 days in the refrigerator, but they taste best when serve fresh and instant.