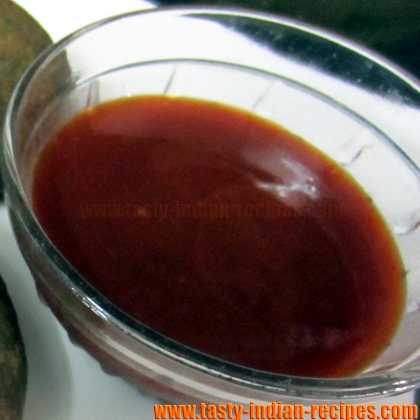 Khajur Imli ki Chutney is the sweet and sour chutney made with khajur (dates), tamarind (imli) and jaggery (gur). This is the best chutney to serve with dahi vada's or any Indian chaat. The sweetness of khajur and gur and tanginess of tamarind really makes a great accompaniment chutney to enjoy the Indian chaat's like pani puri, sev puri, dahi puri, etc.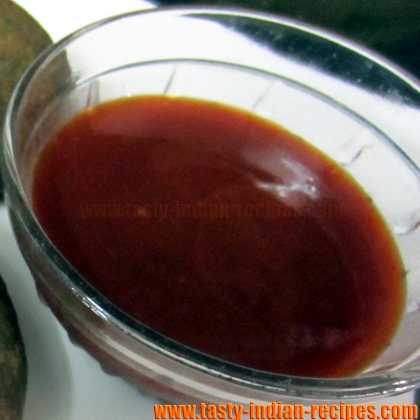 Preparation time: 10 minutes
Cooking time: 25 minutes
Servings: 4
Ingredients:
200 gms khajur (dates)
1/2 cup imli (tamarind)
A big chunk of gur (jaggery)
1/2 tsp cumin seeds (jeera) crushed
1/2 tsp red chilli powder
Salt to taste
How to make Khajur imli ki Chutney:
Clean and deseed the khajur and imli and soak in the water at least for 10 minutes.
Roast the crushed cumin seeds on a hot tawa and keep aside.
Heat a vessel, add the soaked khajur and imli along with 4-5 cups of water.
Mix well and leave to cook for 8-10 minutes on low flame.
Now add gur, salt and red chilli powder.
Stir and cook for 5-6 more minutes.
Switch off the gas and leave to cool this mixture.
Stain the water and grind to make a smooth chutney.
Finally check the seasoning and add roasted cumin.
Mix well and use as and when you require.
Chef Tips:
You can refrigerate this chutney for 15-20 days.
For making pani puri, you can use this chutney. For that you just need to make it in a liquid form by adding good amount of water.
Drinking the liquid water of this chutney is good treatment if you have swelling in your mouth.
You can use sugar instead of jaggery.
You can pour this yummy chutney on top of dahi vada to make them more tasty.